By Mark Ellis–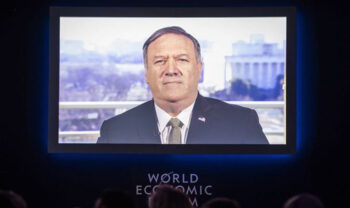 U.S. Secretary of State Mike Pompeo announced January 22nd that the Trump administration's peace plan between the Israelis and Palestinians—what some are calling the "deal of the century"—will be released after the April 9th elections in Israel.
Pompeo stated that there is a pathway toward reconciliation for Israelis and Palestinians, according to The JNS Daily Syndicate.
He made the statement via video conference at the World Economic Forum in Davos, Switzerland.
Relations have been rocky between the U.S. and the Palestinian Authority after President Trump recognized Jerusalem as Israel's capital a year ago, moved the U.S. embassy to Jerusalem, and closed the PLO mission in Washington.
"Pompeo said peace talks will not be "driven" by the United States, but by Israelis and Palestinians themselves. Nonetheless, he referenced a U.S.-led timeline after Israelis vote," according to JNS.
White House special envoy Jason Greenblatt called reporting in Israel's media about the peace accord "inaccurate," saying "speculation about the content of the plan is not helpful. Very few people on the planet know what is in it."
In the Davos statement, Pompeo repeated his claim that ISIS is "defeated" in Iraq and Syria, despite attacks from the group against American forces last week and on January 21st.