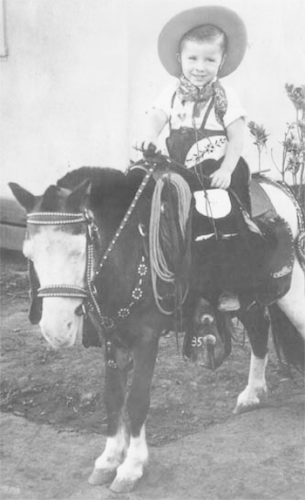 By Abraham Morales —
With a huge, swarthy bully chasing him, the tow-headed third grader ran home after school as fast as he could.
This was little Carlos Ray's misery everyday in Miami, Arizona – until a gas station attendant stopped him and taught him to stand up to the bigger boy.
Little Carlitos trembled with fear as he faced his bully. The two grappling in the dirt for minutes that seemed like an eternity, and Carlos was receiving a walloping. Suddenly, he grabbed his adversary's finger bent it backwards. The bully cried out in pain and surrendered, according to the autobiography, Against All Odds: My Story.
That's how America's toughest tough guy got his start. The shy and intimidated little kid later learned martial arts in Korea, while he was in the Air Force. It was in Korea that Carlos Ray Norris adopted his nickname "Chuck."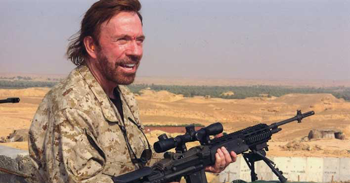 The martial arts instructor and actor, now 78, was born into a dysfunctional family with an alcoholic father. He was part Cherokee, but that didn't help him when his mother moved to Arizona and enrolled him in a school of mostly Native Americans, where the blue-eyed blond kid seemed easy prey for schoolyard tormentors. He was introverted, non-athletic and not very academic.
After high school, he enlisted in the Air Force as an Air Policeman in 1958 and excelled at martial arts, earning more than one black belt. He eventually founded his own school with his own brand of martial arts called Chun Kuk Do.
He was discharged from the military in 1962, taught in karate schools, and excelled in competitions. He won the Professional World Full-Contact Middleweight Karate Champion title in 1968, which he retained until he retired in 1974.
His karate teaching brought him to the likes of Priscilla Presley, the Osmonds and the Hollywood tough guy Steve McQueen. McQueen encouraged Norris to try his hand at acting. He had already performed a bit part in The Wrecking Crew in 1969.
He met Bruce Lee and played the part of Lee's nemesis in Way of the Dragon in 1972 and Return of the Dragon the following year. His acting career took off, with his biggest role being the thriller, Good Guys Wear Black. The film made $18 million in 1978.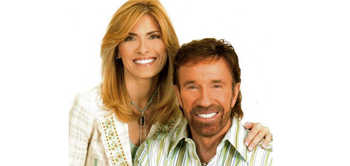 He began writing fitness books and was featured in the 1983 videogame Chuck Norris Superkicks. He was on the way to becoming an American legend. His biography, The Secret of My Inner Strength, My Story, became a New York Times bestseller.
When movie roles dwindled, he took television roles.
From childhood, Norris was a Christian. He accepted Jesus at age 12 and attended a Billy Graham crusade. But being in Hollywood took a toll on him. He got involved in an affair and lost his first wife, Dianne Holecheck.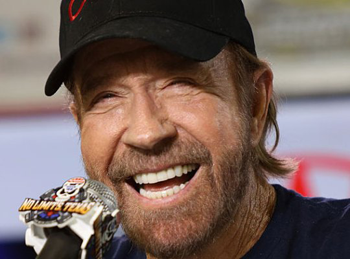 "Unfortunately, a lot of times in the entertainment industry you lose sight of what's really important in your life," Norris said in Hear It First. "I lost a marriage because of it."
Norris remarried to Gena O'Kelley and recommitted his life to Christ. To the children from his first marriage Mike, Dina and Eric, he added two more with his second wife, Dakota and Danilee.
He and his wife launched Kickstart Foundation to introduce martial arts training with moral teaching in public schools. The program, which builds self-esteem, reached up to 6,500 schools, according to Hear It First.
"Martial Arts is a philosophy that is pretty much the principles of the Bible," Norris said. "Even though we can't talk about Jesus, we can talk about what Jesus talks about in the Bible: love, loving your neighbor, being good people."

Norris is not shy about sharing his faith around Hollywood. He went out of his way to promote Mel Gibson's The Passion of Christ.
"People come up to me and say, 'Chuck, you're the luckiest guy in the world to be a world karate champion and a movie and TV star,'" Norris said. "When they say this to me, I kind of smile because luck had nothing to do with it. God had everything to do with it."
Abraham Morales studies at the Lighthouse Christian Academy in Santa Monica.