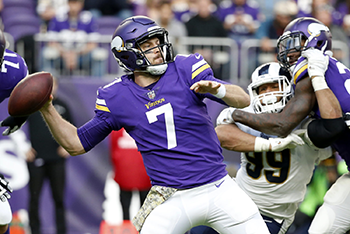 By Garrett Lahood —
People are calling a last second, 61-yard touchdown pass to win the NFC championship the "Minneapolis miracle," and Viking quarterback Case Keenum would probably agree.
The Minneapolis man credited God with the shock Jan. 14 victory.
"It's probably gonna go down as the third best moment of my life — behind giving my life to Jesus Christ, marrying my wife, and this one's right there close," Keenum said on national television. "God is good."
Stefon Diggs, the wide-receiver who snatched the ball over the heads of stunned Saints players, concurred. "I give everything to God," Diggs told Fox Sports. "God put me here. And I'm just thankful."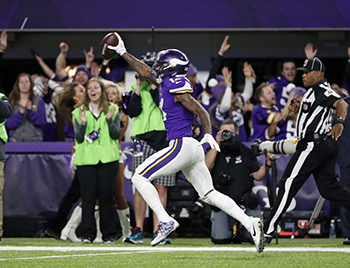 The Vikings, which hadn't won the NFC for 41 years, now play the Philadelphia Eagles to see if they advance to the Super Bowl.
The Vikings were losing 24-23 with only 10 seconds to play when Keenum, a second string quarterback just a few months ago, rifled the ball down the sideline to connect with Diggs for one of years' most eye-popping turnaround victories.
"That was God," said fellow wide receiver Adam Thielen, as quoted in CBN. "That play right there was God." Their showing there are a lot of Christians in football.
The Vikings went 13-3 this season with Keenum at the helm after starting quarterback Sam Bradford was sidelined by injury in game two of the season.
Keenum has not only had an outstanding year. He's an exceptionally bright light for Christ.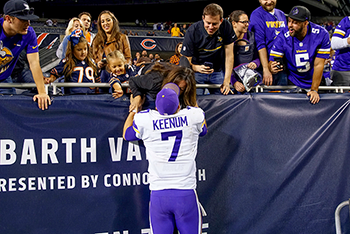 "A lot of people can talk about their faith. When you live it every day and act on the word of God, it's pretty cool to see," Thielen said. Keenum "doesn't just talk — he acts upon it and leads by example. It helps me become a better person of faith."
Keenum's Twitter bio includes Isaiah 40:31: "They that wait upon the LORD shall renew their strength; they shall mount up with wings as eagles; they shall run, and not be weary; and they shall walk, and not faint."
Keenum has had to "wait upon the Lord" to star in the NFL.
In college, after setting the NCAA record for total passing yards, touchdowns and completions at Houston, he spent the 2012 season on the Texans' practice squad and lost eight games as starter in 2013. He was dropped by the Texans, picked up by the St. Louis Rams and dropped in 2014. After more bench time, he finally got his chance with the Rams, leading them to three consecutive victories in 2016.
After signing a one-year contract with the Vikings for 2017, Keenum got his chance after Bradford was injured, capped by his heroics Sunday.
The Vikings started brightly, racking up a 17-point lead. But then the Saints roared into the game to take the lead, at 21-20. The Vikings responded with a 53-yard field goal to restore their lead. It was 23-21.
With only 1:29 left in the game, the Saints scored their own field goal, making it 24-23.
The Vikings had only 29 seconds left. That's why it was called the Minneapolis miracle.
ESPN said of Keenum: "The Vikings have never had a quarterback quite like Casey Austin Keenum — undrafted, unwanted, un-everything — who led them to a 13-3 record as the second-most-accurate passer in the league."
He's heavily involved in Fellowship of Christian Athletes. He met and married Kimberly Caddell from his native Abilene, Texas in June 2011.
He's riding high for the moment, but he's also seen the lows that the world can bring.
"You just realize that football is fickle; it's not going to be there all the time," Keenum told the Pioneer Press. "Just getting my priorities straight and knowing the true reason I play the game, and that's to give glory to God. That's something I take pride in. It's why I do what I do.
"That's why I became a Christian — being around Christian athletes through FCA. I'm not playing for the name on the back of my jersey, I'm playing to glorify God. He's given me talents, and I'm trying to maximize those talents however I can."
Garrett Lahood studies at the Lighthouse Christian Academy in Santa Monica.