Adapted by Mark Ellis —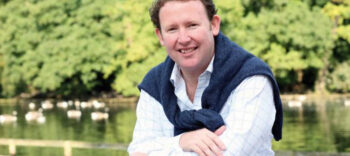 Attending a private all-boys school in England, his teachers were shocked when they asked 16-year-old Jonathan Conrathe about his future ambitions.
One of his teachers asked, "Conrathe, what are you going to do with your life?"
"I'm going to preach the gospel, Sir!" he recounted in a post for Premiere Christianity.
"You're going to what?!!" the teacher said, incredulously.
"I'm going to preach the gospel, Sir".
"You better come to the careers advice office!"
The teacher led him to the careers office, fed his particulars into a computer and spent the next 30 minutes trying to persuade Jonathan there were much better things he could do with his life. "He told me to go away and think about it overnight."
That night Jonathan got down on his knees next to his bed and asked God to speak to him clearly about his future direction.
Then he got into bed, fell asleep, and had a most remarkable dream.
"Within moments I was in a spiritual dream that felt as real as though it were physically happening. I was standing alone at the foot of the cross, looking up at Jesus, who at that moment was hanging from it, looking down at me and repeating the words: 'healing and salvation must be preached from my cross.'"
The scene replayed several times through the night, but then it changed abruptly.
"While I was still standing at the foot of the cross, I was suddenly aware of Jesus standing next to me. I looked at him, and he said to me: 'now look and see who is on the cross.' I turned and, looking upwards, saw myself!"
When Jonathan woke up, he was left with two strong impressions: first that Jesus was personally commissioning him, and second that there was a price to pay.
"Whatever the long-term implications of that may be, initially that meant turning down the potential opportunities that I may have had in other forms of employment," he noted.
After the dream, he couldn't speak for 40 minutes, and was "conscious of imprints on my hands and feet, though I could not see anything there physically."
His mother, also a strong believer, had a strong reaction when she saw him that morning. She took one look at him and said: "You've met with God!".
Jonathan has spent the last 30 years in full-time evangelism and healing ministry in over 50 nations, speaking to crowds of up to 300,000 people outdoors, also in churches, city halls, and in the streets.
"I always tell them of the one who gave his life that they might be saved. Around 250,000 people have responded to give their lives to him so far, many new churches have been planted and miracles of healing have been frequently recorded," he says.
"At 49 years old, I can truly say, it was grace that called me, grace that has brought me safe thus far and grace that leads me on."
Jonathan Conrathe is the Founder and Director of Valley Life Trust, which today encompasses Mission24, Child Life Homes and Life Link. For more information visit mission24.co.uk. He ministers widely in missions around the world, as well as to churches and leaders across a variety of denominations. He is also an accredited minister with Churches in Communities International (CIC).
Click here to read 'When God Uses Dreams: 5 amazing stories'
Click here to request a free copy of Premier Christianity magazine