By Mark Ellis —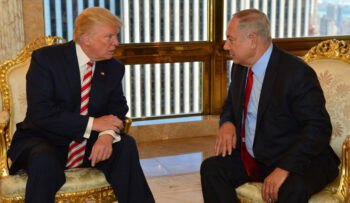 The Trump administration is completing a draft of an Israeli-Palestinian peace proposal based on a two-state solution, according to The New York Times.
U.S. Ambassador to Israel David Friedman corroborated the Times story in an interview with the Jewish News Service (JNS.org) on November 12th.
"We're working very hard on it," he said of the peace proposal. "It's hard to comment on it while we're in the middle, because it's delicate." He added that more information about the plan will be publicized in "a few months."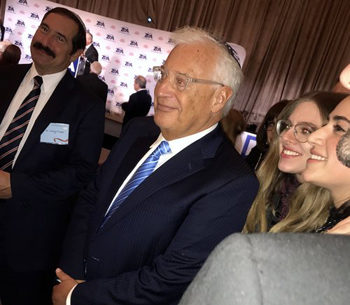 Friedman is part of a four-person team working on the proposal, along with President Trump's son-in-law Jared Kushner, Special Representative for International Negotiations Jason Greenblatt, and Deputy National Security Advisor Dina Powell.
The team is consulting with U.S. Consul General in Jerusalem Donald Blome, as well as others from the State Department and the National Security Council.
According to the Times report, U.S. officials said the plan may be concluded by early 2018.
Remarkably, both Israel and the Palestinians have commended the Trump administration's work on the peace plan.
"We do believe this is a historic opportunity, and we will spare no effort to support President Trump's investment in a better future," said Husam Zomlot, the Palestinian Authority's envoy to the U.S.
"[U.S. officials] are trying to think out of the box," Israeli Prime Minister Benjamin Netanyahu said last week.
Ambassador Friedman affirmed an improved environment to make peace. "Prime Minister [Benjamin] Netanyahu and I agree that we have turned a page on the relationship between Israel and the United States. It is a change for the better."
But he told JNS.org that American support for Israel is "becoming too tilted to one party (the GOP) and it's got to get back to where everybody supports Israel."
The ambassador also shared his concerns with Iran. He said that if Netanyahu were asked for his three top foreign policy objectives, "he will tell you it is Iran, Iran and Iran."
"In Iran, there are three independent things to be concerned about: Iran as a nuclear power that threatens to annihilate Israel; Iran as a state sponsor of terrorism through Hezbollah and other proxies; and Iran as regional superpower expanding through Iraq, Syria and Yemen and filling the vacuum created by the defeat of ISIS."