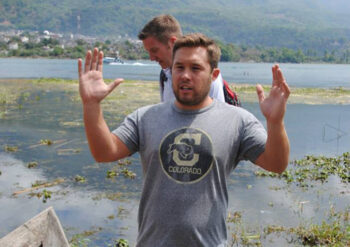 By Sam Ellis —
You decided to be in this leadership group for moments like this, to point others towards Jesus, a strong rock for those to lean on in the midst of so much brokenness, pain and questioning.
Until Jesus comes back Satan's desire is to carry out evil. BUT he will never win because Jesus has and will conquer all evil. Jesus stands against pain, misery, evil and these acts of terror.
It is in moments like these in history in which you can say to your classmates around you 'do not fear' for God is our hope and deliverance from all evil on this planet.
It is in times like this God is crying alongside your teachers and is close to the brokenhearted.
Times like this prove this world is in desperate need of a Savior to rescue our hurting families.
In times like this you have the opportunity to provide the peace of Jesus on your campus in the midst of the chaotic storm all around.
Be brave today, trusting in God's desire to crush evil, wipe away every tear, and bring wholeness to every broken heart in all situations and circumstances. Jesus wants to use you to be His hands and feet all around you. Do not be afraid to use the light of Christ to shine brightly in the midst of the darkness. Love you all.
Sam Ellis is the youth pastor at Church by the Sea in Laguna Beach, California. He may be reached at [email protected]