By Mark Ellis —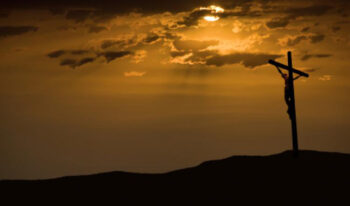 Father, tell me what you felt like
when you lost your only Son
Oh Father
tell me how it felt
when they arrested him that night
Tell me what you thought
to see your only Son on trial
Did you turn your eyes away
as they flogged his back and sides?
Oh Father
I know the slurs and mocking
must have driven you insane
then they marched Him up a little hill
with soldiers at his side
Could you bear to watch
His outstretched body on a tree?
Oh Father
You heard the sounds of pounding
as they nailed His hands and feet,
raised Him up for all to see
in shame and agony
Father, tell me what you felt like
when you lost your only son
He kept his eyes upon you…
You had to look away
Through searing pain and heartache
He finished everything that day
Darkness covered Golgotha
The curtain torn in two
Abba, Daddy
Your love has made a way.