By Mark Ellis —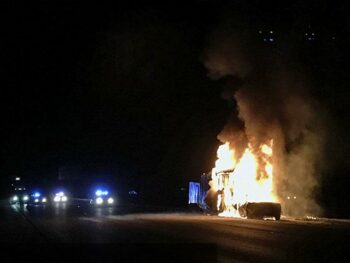 The Irish worship band, "We Are Messengers," whose song was used in the controversial movie "The Shack" is thankful God rescued them from a terrible bus crash.
Lead vocalist and guitarist Darren Mulligan posted a heartrending description of the accident on Facebook. All the band members on their bus escaped without serious injury, but a person in another vehicle was killed tragically.
Mulligan reported that on Sunday, March 26, at approximately 4 a.m., a car with no lights was stopped in the right lane of I-75 south of Atlanta.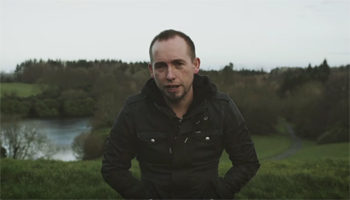 The We Are Messengers tour bus happened to be traveling northbound on that same road. When the bus driver spotted the car, he attempted to avoid the stopped vehicle, but it was too late and the two vehicles collided immediately, resulting in a fiery crash.
The driver of the bus immediately saw the flames on his left side. He yelled at everyone in the bus to get out, police spokesman Capt. Mike Ireland told reporters.
The members of We Are Messengers escaped before their bus was destroyed, but the person inside the other vehicle was unable to survive the blaze.
"I'm heartbroken," Darren Mulligan recounted on Facebook, asking people to pray for the family of the man who perished in the accident.
"We should have all been dead. But the Lord is good. God's still good, even in the tragedy that we've all been a part of, God is still good," Mulligan stated.
The band posted a photo from a partially burned Bible that survived the fire. Considering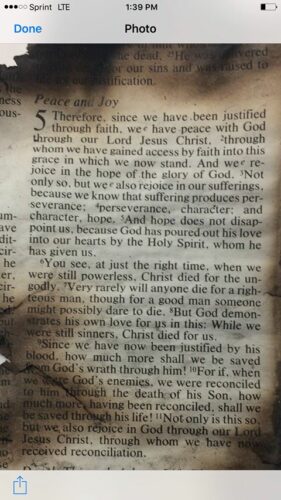 the controversy surrounding The Shack –with some Christians branding the movie as heretical – the page that survived was from the chapter that sparked Luther's Reformation – Romans 5:
"Therefore, since we have been justified through faith, we have peace with God through our Lord Jesus Christ, through whom we have gained access by faith into this grace in which we now stand."
A year ago, Mulligan shared his testimony in a YouTube video, and more recently, in an interview with Fox News in connection with The Shack.
Mulligan said he was raised in the small town of Monaghan, Ireland, near the border with Northern Ireland.
"Somehow in my teenage years I became sad, morosely sad, and I can't even tell you why," he recounted in the video.
From a young age he began drinking. Later, he studied philosophy and geography in college, hoping to find answers to life. "Instead, I didn't find answers…I just had more questions," he said.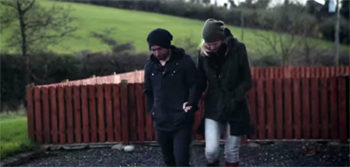 On the streets one night he met a young "lassie" named Heidi, they fell in love, and got married. She developed an eating disorder and became despondent after the loss of her father to alcoholism, but Mulligan was very uncaring and left to tour America – driven by his desire to become a rock star.
While Mulligan was touring in America, God's love pierced Heidi heart and she was born again. When they reunited, Mulligan noticed a "massive" change in Heidi.
"I was an adulterer, that was my thing, and a drunk. I was any amount of things – a blasphemer, I was violent, I was all of these things that saying prayers in some religious setting was never going to set me free from that," he admitted.
"I've done things that I can't even tell you. I have seen things with my eyes and been involved with things that if you really knew me you wouldn't speak to me. Or maybe you would, because you know who Jesus is and He kind of specializes in dealing with people like me," Mulligan said.
As Mulligan sat in church one night with his wife the Holy Spirit convicted his heart. "I felt wretchedness and shame and sinful, dirty and hopeless."
Mulligan went forward that night and the sinner's prayer gushed out of his mouth as he stood next to the pastor. "I gave my life to Jesus and my wife clapped and laughed and celebrated."
"She told me she loved and she forgave me and then I fell in love with Jesus because of the choice and the love of a good woman. Strange how God operates," Mulligan recounted.
"The change in our lives is incredible. We have three beautiful kids."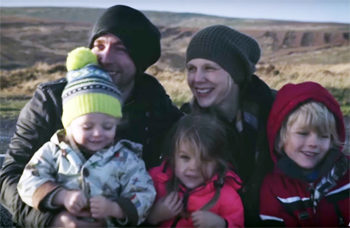 As his relationship with Christ grew, Mulligan decided to share what he was learning through his music, as a Christian artist. He has toured America, sharing the gospel through the lyrics of his songs and his messages to audiences.
Mulligan hopes to get back on the road by the end of the week, supported by fans who are praying for them.
To know more about having a personal relationship with God, go here