By Mark Ellis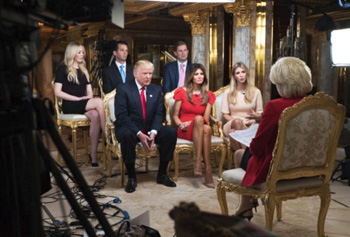 In a slap to the face of his evangelical supporters, President-elect Trump said the Supreme Court's 2015 ruling imposing homosexual "marriage" on all 50 states was "settled" law, and "gay marriage" as a political issue is "done … And I'm fine with that."
Trump – with his family surrounding him – was interviewed by veteran journalist Lesley Stahl on CBS's 60 Minutes, Sunday November 13th.
His new position contradicts what he told GOP primary voters in South Carolina last February: that he opposed the "shocking" Obergefell decision and that evangelical voters could depend on him to protect the traditional definition of marriage. Trump said then he thought the states should determine marriage laws for themselves.
Before the Iowa caucuses, in an appeal to evangelical voters, Trump said he wanted to see Obergefell overturned: "If I'm elected I would be very strong in putting certain judges on the bench that maybe could change things, but they have a long way to go."
The late Supreme Court Justice Antonin Scalia's stinging dissent in Obergefell noted it was a "naked judicial claim to legislative–indeed, super-legislative–power; a claim fundamentally at odds with our system of government.
"[T]o allow the policy question of same-sex marriage to be considered and resolved by a select, patrician, highly unrepresentative panel of nine is to violate a principle even more fundamental than no taxation without representation: no social transformation without representation," Scalia wrote.
Trump has stated he would like to appoint justices to the Supreme Court in line with Scalia's thinking.
"Many millions of evangelical, Catholic and moral-minded voters trusted Mr. Trump with their votes because they did not see him as just another slippery politician," says Peter LaBarbera, president of Americans For Truth About Homosexuality. "Now it is up to President-elect Trump to show that he is worthy of that trust by clarifying his defeatist statement on Obergefell."
"America cannot become great again by defying God, and homosexuality-based 'marriage' is about as godless as it gets," LaBarbera added. "Trump needs to do all he can to reverse the Supreme Court's unconstitutional Obergefell ruling-just as he pledges to overturn Roe v. Wade and abortion-on-demand."
"It would be a HUGE mistake for Trump to break his pledge to the pro-marriage Republican voters who put him in the White House. Trump must not pander to the media on 'gay marriage.'"
For more information about AFTAH, go here