By Mark Ellis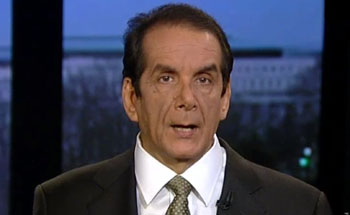 Political commentator Charles Krauthammer has made a shocking allegation that President Obama may issue a "parting shot" at Israel in the waning days of his administration by pushing the U.N. for a new security council resolution to recognize a Palestinian State.
The charge was contained in the syndicated journalist's Oct. 28th column: "Is Obama preparing a parting shot at Israel?"
Krauthammer says there have been indications of such a move for months, that "Obama might go to the U.N. and unveil his own final status parameters of a two-state solution," he writes.
"These would then be enshrined in a new Security Council resolution that could officially recognize a Palestinian state on the territory Israel came into possession of during the 1967 Six-Day War."
Krauthammer notes that this has been opposed by eight U.S. administrations because it violates the main premise of Middle East peacemaking — land for peace.
A Palestinian state should only come to fruition if "the parties agree on recognized boundaries, exchange mutual recognition and declare a permanent end to the conflict," Krauthamer emphasized.
If President Obama were to engage in such a rash move, "land for peace would be replaced by land for nothing."
Further, it would eliminate the Palestinian incentive to negotiate and remove territorial bargaining chips from Israel of the type it used to achieve peace with Egypt.
Krauthammer argues this would bring "incalculable damage to Israel" and increase the chances for war.
Passage of the resolution would also open Israel up to the "absurd judicial charge that the Jewish state's possession of the Jewish Quarter constitutes a criminal occupation of another country.
"Israel would be hauled endlessly into courts to face sanctions, boycotts and arrest of its leaders. All this for violating a U.N. mandate to which no Israeli government, left or right, could possibly accede."
President Obama could not have attempted this before the election because it would certainly damage Hillary Clinton politically.
But he has an opening after Election Day unless Clinton (as President-elect?) sees fit to deter him.
International events concerning Israel are following a disturbing trend-line.
Last week, the U.N. agency, UNESCO, approved a resolution that condemned Israel and referred to her as "the Occupying Power" for alleged violations of the Temple Mount in Jerusalem.
Krauthammer points out the resolution never uses that term (Temple Mount) for Judaism's holiest shrine. It refers to it as an exclusively Muslim site, a deliberate attempt to remove its connection to Jewish history.
"This Orwellian absurdity is an insult not just to Judaism but to Christianity. It makes a mockery of the Gospels, which chronicle the story of a Galilean Jew whose life and ministry unfolded throughout the Holy Land, most especially in Jerusalem and the Temple. If this is nothing but a Muslim site, what happens to the very foundation of Christianity, which occurred 600 years before Islam even came into being?" he notes.
This recent resolution is another example of the campaign to delegitimize Israel. "It features the BDS movement (Boycott, Divestment and Sanctions), now growing on Western university campuses and some mainline Protestant churches. And it extends even into some precincts of the Democratic Party."
WikiLeaks has revealed that Clinton Campaign Manager Robby Mook thought Clinton should not be mentioning Israel in her speeches: "We shouldn't have Israel at public events. Especially dem activists."
Krauthammer notes that for some in the Democrat party the very mention of Israel is "toxic."
Related: Charles Krauthammer ruminates on God, Israel, and the accident that left him paralyzed