By Mark Ellis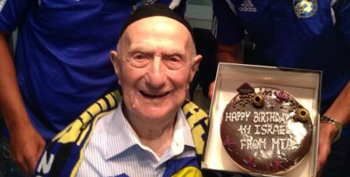 Due to the trauma of World War I, Israel Kristal missed the opportunity for his bar mitzvah at 13-years-old. Now as the world's oldest man, he will finally celebrate the Jewish rite of passage.
Kristal was born into a religious Jewish family in Poland, then part of the Russian Empire. His father, a Torah scholar, made sure his son had a religious education and awakened young Israel at five in the morning for religious training.
He learned the Hebrew Bible at four-years-old and the Mishnah at six. Kristal maintained his faith throughout his life.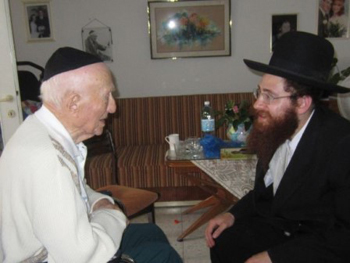 His mother died when he was only seven. When World War I broke out in in 1914, he saw Kaiser Franz Joseph in person when the monarch rode through his town in an open motorcar.
His father, drafted into the Imperial Russian Army during the Great War, died soon after his enlistment.
At age 17, Kristal started working in his family's candy factory and later became an expert candy-maker. He married in 1928 and had two children.
In 1940, after the Germans had taken over Poland during World War II, Kristal and his family were forced to live in the Jewish ghetto. His two children died there, while Kristal and his wife were deported to Auschwitz concentration camp in August 1944.
Speaking about the horror of Auschwitz, he once told Ha'aretz, "Two books could be written about a single day there."
Kristal's wife died in Auschwitz while he worked as a laborer. Remarkably, he survived the dreaded camp. After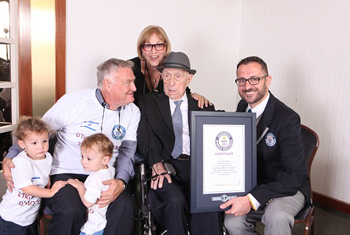 the war, he rebuilt his destroyed candy shop and met his second wife, Batsheva. They married in 1947 and had two children.
In 1950, the family immigrated to Israel and settled in Haifa. He continued his work there as an expert candy maker until his retirement in 1970.
Kristal became the world's oldest living man after the death of Japanese supercentenarian Yasutaro Koide on January 19, 2016.
His daughter, Shulimath, told the DTA news agency that his family is planning a bar mitzvah for him, and about 100 relatives will attend. "We will bless him, we will dance with him, we will be happy," she said.
She told the BBC that on his bar mitzvah day, Kristal will don tefillin, the small boxes containing prayers that Jews wrap around their arms and heads, and will utter blessings for the Torah.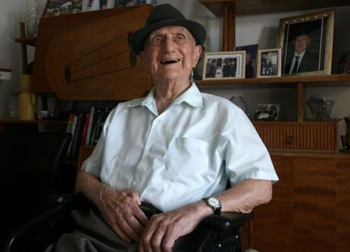 Talking to the Jerusalem Post about her father surviving the Holocaust, she said, "He believes he was saved because that's what God wanted."
As for himself, Kristal said, "I believe that everything is determined from above and we shall never know the reasons why. There have been smarter, stronger and better-looking men … who are no longer alive. All that is left for us to do is to keep on working as hard as we can and rebuild what is lost."