By Mark Ellis —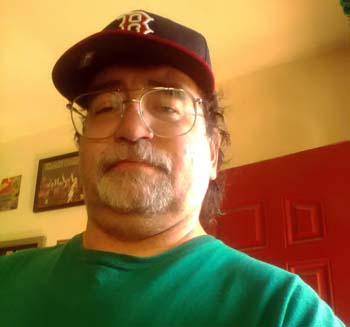 After midnight, he was driving home from work on a dimly lit country road outside Cumberland, Rhode Island when he came around a blind curve and saw a driver's worst nightmare, a car careening toward him on the wrong side of the road.
"There was nothing I could do," says Michael Fogarty, who was 18 at the time of the accident. He veered to the right to avoid colliding head on and lost control of the car on the dirt shoulder.
His brand new Chevy Celebrity hit a tree head-on, then the tail swung around and he hit a boulder, which vaulted the car up in the air.
"I landed upside down, bounced up and I flipped around again, spun around and hit a telephone pole."
When he hit the tree the engine went through the front seat. "My skull broke the steering wheel in half. It bent the steering wheel to the column," he recounts.
The collision with the steering wheel bowed his forehead backward, cracked his skull and punctured his frontal lobe. Springs from the seat went through Fogarty. His jawbone sliced through his optic nerve and blinded his right eye. The top of his skull was also caved in.
He didn't have a seat belt on, so he was pinned between the engine and the driver's door. A fire station happened to be at the bottom of the street and paramedics were there within minutes after hearing the loud crash.
"I was dead at the scene, so they didn't worry about me losing blood or hurting me," he recounts. "They cut off the back door and my seat to get to me because I was so pinned."
Despite the fact that his heart stopped, paramedics revived Fogarty at the scene, stabilized him, and transported him to the hospital.
"My spine was detached from my skull," he says. "They had to reconnect it." His right foot was broken in 17 places and he had many broken ribs.
"Normally, you don't survive that," he explains.
After he entered the hospital, Fogarty went into a coma for the next two-and-a-half days. During the coma he had a remarkable encounter with God. Whether in the body or out of the body, his amazing vision altered his life.
"I was sitting on a bench looking at grayness as far as you can see. There were no mountains or clouds. I was seeing miles, but everywhere I looked there was nothing."
He had very little church experience in his youth. Fogarty's parents divorced when he was a one-year-old. His father took him to church until he was about seven, but he only saw his father once in the next decade and never attended church.
Despite his sparse Christian background, as he sat on the bench staring at a broad expanse of nothingness, he sensed something or someone was missing.
When is he going to get here? Fogarty kept thinking. He sensed the absence of God and it left him feeling empty. "I'm waiting God…" he blurted out, somewhat petulantly. He was miffed that God was not showing up.
Then he witnessed a startling sight. "I saw an old fashioned chariot being pulled by horses. It was so bright you couldn't tell what was pulling it. It was glowing from the inside of the cart."
Even with his limited understanding, he knew God had arrived.
The gray expanse was suddenly transformed. "The next thing I know everything was bright and golden and yellowish as could be. Then I was whisked away by God. I felt his comfort and warmth."
A hand held Fogarty from the back as they flew through the air.
This is what you'll be leaving behind, a voice said.
Then he saw his job and his interactions with his customer base. He saw his girlfriend's house and their friends. "I was traveling at the height of telephone poles in the air, zipping by," he recounts.
Then he saw his parents' two-story house. He saw the three parking spots in front of the garage where they parked. In his empty parking spot, there was 18 inches of fresh snow.
"When I saw that I felt broken in my body. The next thing I knew I was in my body… I chose to stay."
"I didn't see heaven. I wasn't going to heaven. God knew that. He wasn't bringing me to heaven. I was in a transitional period," he notes.
When he re-entered his body, he heard the doctors telling his parents that if their son survived he would probably be paralyzed from the neck down, definitely from the waist down. Because Fogarty punctured his frontal lobe, the chances were high he would not talk again. They said he would most likely live in a vegetative state.
"You'll have to close his mouth for him, wipe away the drool, you might get a few words from him. This will be a lifelong event if he survives the next 24-48 hours," they said.
Fogarty shocked everyone when he left the hospital two weeks later. "It is not possible in this world. But 13 days later by the grace of God I walked out of that hospital."
His mother picked him up and drove him home. With his head in a metal halo for support, she held his arm as they proceeded slowly across the driveway to his front door. He noticed four inches of snow in his empty parking spot.
"Mom, when did it snow?" he asked.
"It snowed the night of your accident…It snowed 18 inches the night of your accident."
Forgarty believes that small detail was God's confirmation of what he saw in his vision.
While his survival is miraculous in itself, his recovery has not been easy. "I've had seizures and nerve damage from that time on," he notes. "I'm on disability now. I am blind in my right eye, have no depth perception, I suffer from PTSD; I have anxiety riding in cars; my bones have degenerative arthritis. My back has three bulging discs and my neck has two."
Despite his dramatic encounter with God, it took years for Fogarty to understand and personalize his own faith. "I didn't know God at all. My life was hell. He told me that because I lived I would talk about this and I will need to share this story. I didn't know if I wanted to."
Internally, he questioned the reality of faith. I'm not sure who you are, God. You saved me but what are you about? he wondered.
He was ashamed of his attitude toward God when he first waited for Him to come. "He is the Almighty and I am just the clay that He made. Who am I to talk to Him like that?" Fogarty begged forgiveness regularly and hid himself from God in shame, he says.
A few years later he started reading the Bible every day. One morning he got up early and read the Bible on his outdoor porch from 3 am to 6 am.
As he read the book of John, something unusual caught his eye at sunrise. "A white cloud – two really – were coming from each side of a tree." The clouds seemed to be moving very fast, like a jet. Then the two clouds merged to become one.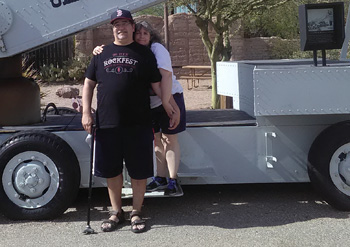 The cloud became a face, a bearded face with a mouth, and hair white as snow. The eyes looked like wisps of fire. The energy that came from the cloud walloped Fogarty and he fell to his knees.
A deep, deep feeling of love began to burst from inside his body, flowing out through his skin. Tears started streaming from his eyes.
"I knew Jesus was showing himself to me," he recounts. "He was there for me still. When he saved me (from death) he was still there for me. When I was dead he stood with me. When I ignored him, he stayed with me."
Chastened by the encounter, Fogarty decided it was time to change his ways.
He recognized that even when he didn't know Jesus, when he asked for him to come, he came. "He didn't shun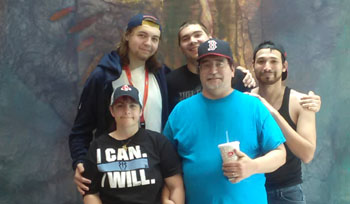 me," he realized. Fogarty decided it was time to follow Jesus wholeheartedly.
"God gave me the strength. God is great," he says.
There is only one way he can view his survival – "It is a miracle!"
If you want to know God personally, go here