By Mark Ellis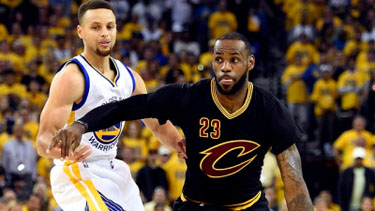 Against all odds, the Cleveland Cavaliers came back from a 3 to 1 deficit against the Golden State Warriors to win Cleveland's first NBA championship in 52 years. Playing with a peace that surprised his teammates, LeBron James credited the "Man above" for his presence of mind.
After the final buzzer sounded, LeBron dropped to his knees on the court, bowed his head down, and began to weep tears of joy and gratitude.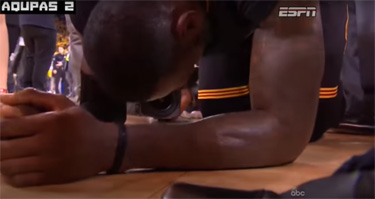 "It was definitely like a Rocky fight," LeBron told Sports Center after the game. "We're the first team to come back from a 3-1 deficit, so this is special," he said.
With LeBron's inspired leadership, the Cavaliers defeated the Warriors 93-89 in Oakland to win the title. To eke out a victory in the final minutes on Golden State's home court was a huge challenge, because the Warriors seldom lost in front of their zealous fans.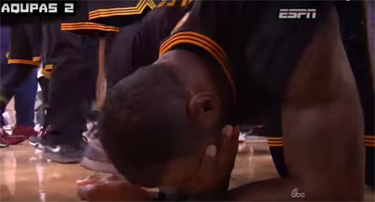 LeBron finished the game with a triple-double, 27 points, 11 rebounds, and 11 assists. Also, LeBron led both teams in total points, assists, rebounds, blocks, and steals.
"I gave everything I had. I put my heart, my soul, my blood, my sweat and my tears into this game. Against all odds…I don't know why we want to take the hardest road."
Referencing 1 Corinthians 10:13, he said he felt like he received a test from above. "I don't know why the Man above gives me the hardest road, but the Man above doesn't put you in situations you can't handle," he said.
The peace he received from above had an effect on his other teammates. "I had a sense of calmness for myself. When I was calm and I was confident the other 14 guys said, 'OK, let's follow.'"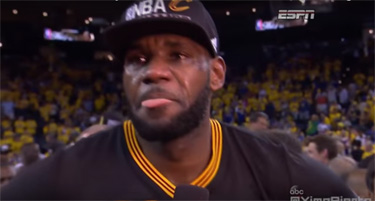 "I know the Man above never puts something in front of a man he can't handle. That was my whole mindset no matter how tough it got. I just kept that in front of my mind: The Man above never puts something in front of a man he can't handle. That allowed me to be calm. This is everything," he said.
LeBron had dreamed of that moment and when it finally came to fruition, he described it as "a thing of beauty."
For more about LeBron's faith go here
https://www.youtube.com/watch?v=yNvXPvB6W1I