By Mark Ellis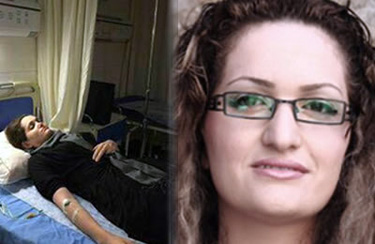 Maryam Zargaran was sent back to prison before her medical treatment could be finished, after the prosecutor's office refused to extend her medical leave.
On June 6th, she was granted a temporary release from prison, but on June 19th the authorities demanded she return, according to World Watch Monitor.
Her family applied for an extension, but they were refused and she returned to prison June 27th.
Maryam has been serving a four-year jail term for "acting against national security." She went on a hunger strike to protest the prison's refusal to allow her to receive treatment for long-term health problems.
Maryam, a convert from Islam, is nearly three years into her sentence at Tehran's notorious Evin prison. She was originally arrested in January 2013, in connection with her work at an orphanage with Saeed Abedini, who was also imprisoned, but eventually released in January this year, according to World Watch Monitor.
A member of the her family told Mohabat News: "Maryam hasn't left her bed in four days. She is burning with fever and has been on hunger strike to raise her protest against prison authorities' indifference toward her health. She is suffering from serious health issues. Before going on hunger strike, she had lost 25kg and her health issues had intensified. Authorities do not show the slightest concern over Maryam's health. In addition, she is suffering from depression and takes medication for it."
Maryam has a history of heart problems and has recently reported pain in her ears and head. In October 2015 she was allowed to receive a few days' treatment outside the prison, but forced to return before it was completed.
Meanwhile, in the northern city of Rasht, two Christians have been released on bail after nearly three weeks in jail, according to World Watch Monitor.
Yasser Mossayebzadeh and Saheb Fadaie were arrested on May 13th with Youcef Nadarkhani, an Iranian pastor once sentenced to death for apostasy, and his wife, Tina. The couple were released later that day, but Mossayebzadeh, Fadaie and another Christian, Mohammad Reza Omidi, were detained.
Mossayebzadeh and Fadaie were each forced to pay the equivalent of $33,000 for bail. Omidi was not given that option, though it is not yet clear why.
Since 2015, more than 150 Christians have been detained by the Iranian authorities. Many are in jail, while others, including Mossayebzadeh and Fadaie, have been released conditionally, pending sentencing or an appeal.
Some observe an increase in fear and intimidation tactics by the authorities.
"There are fewer raids on house churches, but instead people are summoned to security for interrogation," says Rob Duncan at Middle East Concern. "There is a lot of pressure on people to leave the country as a result. Also, when people are arrested and charged, bail demands are high and can financially cripple a family."
To learn more about World Watch Monitor, go here