WARNING: GRAPHIC CONTENT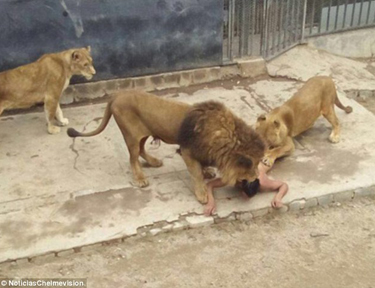 By Mark Ellis
A 20-year-old Chilean man leaped into a lion enclosure at a Santiago zoo, apparently suffering from mental illness that inspired religious delusions.
Once Franco Roman was inside the enclosure, he took off his clothes and jumped into the midst of the African lions, horrifying visitors who witnessed the attack.
The lions immediately pounced on him and began to 'play' with him. The startling scene was captured on video by onlookers.
One witness, Cynthia Vasquez, told Chilean radio station Bio Bio that the security personnel at the zoo reacted slowly and the lions did not attack the man as soon as he entered the enclosure.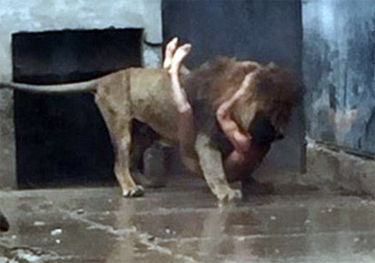 "He entered the enclosure from above and the lions started to play with him, and then after they attacked him," Vasquez told Bio Bio.
She also said Roman was 'shouting things about Jesus'. Another witness said there were a lot of children viewing the horrific scene, and "parents covered their eyes while it was going on."
First, Roman grabbed one of the lions by the neck and was hanging underneath. But his dangerous game went awry, and after barely surviving a mauling, he was taken to a local hospital with severe injuries to his head, chest, and pelvis.
Roman was initially in grave condition and his heart almost stopped, but doctors now expect him to survive.
Zookeepers intervened by spraying water at the lions. When that did not work, they shot and killed the two lions, a male and female, in order to save Roman's life.
Zoo director, Alejandra Montalva, said she was 'deeply affected' by the deaths of the lions. "The zoo has an established protocol because people's lives are very important to us," she told Chilevision.
She added that there were no fast-acting tranquilizers available to stop the lions from mauling the man.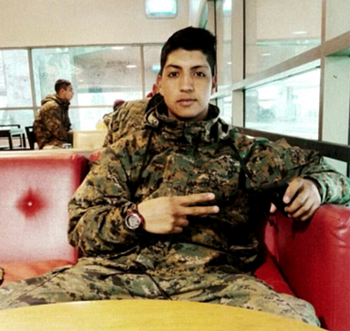 A note left behind suggested the man was suffering from a "mystic messianic delusion," as he referred to himself as Jesus, according to Christian Today.
"Angel of mine, protect me from the enemy. I have the power to do what I want," the note read.
"The devil is scared of me; I will lock him up back where he never should have come out of."
It is believed he was inspired by delusions around the biblical story of Daniel and the lions, according to Christian Today.
The letter, which said the "apocalypse had arrived," included drawings identifying himself as Jesus.
"He was convinced that he was talking to the lions and due to his divine power they would not hurt him," said psychiatrist Dr Italo Sigala, according to the Daily Express.
"It was an intent to provoke a miracle, not a suicide attempt. He wanted to provoke the lions to show the public his divinity. He wanted to repeat the miracle of the prophet Daniel," Sigala said.
"When he wakes up, rather than concluding that he is not Jesus because he was attacked, he will most likely look for another explanation that maintains his superior perception."
Locals say he had never gotten over being abandoned in an orphanage at the age of 11, when his mother died unexpectedly of breast cancer and his alcoholic father refused to care for him or his siblings, according to Chilean media.