By Mark Ellis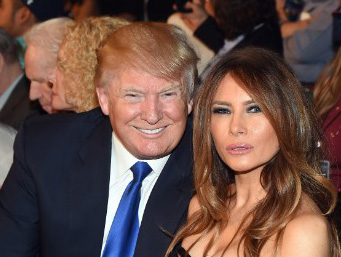 With her pouting lips, sultry gaze, and sinuous form she stands a careful distance away from the man who may become the next president of the United States at post-debate appearances.
Most first ladies of the past have projected a wholesome, virtuous image, with narrow exceptions for stylistic flair and varying levels of engagement in the political process.
Yet any school child assigned to write a report about the next first lady – if indeed it is Melania Trump – will stumble upon a rash of scantily clad photos by doing a simple Google search. Depending on whether or not there are internet filters in place – they may even find her displayed in all the glory of her birthday suit.
"She would be the only first lady to have posed in the buff while lying on a fur blanket handcuffed to a leather briefcase, as she did aboard Trump's jet for British GQ in 2000," quoting the Washington Post.
It will give new meaning to the first lines of our national anthem: "Oh say can you see…"
Born Melania Knauss, she grew up in Slovenia's Lower Sava Valley (then part of Yugoslavia). Her father managed auto dealerships and her mother was a fashion designer.
She began her modeling career at age 16 and by 18 had already signed on with a modeling agency in Milan, Italy. Her highly successful modeling career allowed her to grace the covers of Vogue, Harper's Bazaar, Vanity Fair, and Glamour.
Melania was also featured as a bikini model in the 2000 Sports Illustrated Swimsuit Issue, considered soft porn by some.
She met Donald Trump at the Kit Kat Klub in Manhattan in 1998, according to the Washington Post. Their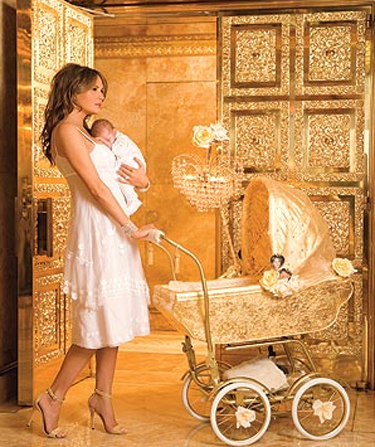 relationship gained further notice after their interview on The Howard Stern Show. Stern, the ultimate shock jock known for his vulgarity, has been fined $2.5 million by the FCC for airing indecent material.
Trump and Knauss were married in 2005 at an Episcopal Church in Palm Beach, Florida, followed by a reception in the 17,000-sq.-ft. ballroom at Trump's Mar-a-Lago estate, according to People magazine.
The event was attended by many celebrities, including then-Senator Hillary Clinton and former president Bill Clinton. At the reception, Billy Joel serenaded the crowd with "Just the Way You Are", and supplied new lyrics about Trump to the tune of "The Lady is a Tramp," according to People.
Melania wore a $200,000 dress made by John Galliano of the house of Christian Dior, and the cake at the reception was a 50-pound orange Grand Marnier chocolate truffle cake, with a Grand Marnier butter-cream filling, and covered with 3,000 roses created by the chef at Mar-a-Lago, People reported.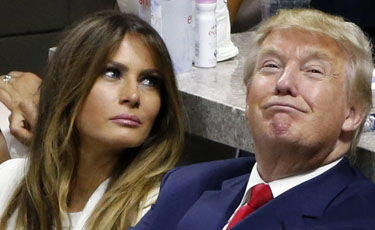 After her marriage to Trump, The former model started her own "Melania" line of jewelry and marketed a $150-an-ounce moisturizer made with caviar, according to the Washington Post.
Many have been impressed by Melania's intelligence, including veteran journalist Barbara Walters, who said: "Maybe because she's so pretty, we don't expect her to be as smart as she is." Melania speaks four languages, which would also set her apart as first lady.
When asked by The New York Times what her role would be if Trump were to become president, Melania replied: "I would be very traditional. Like Betty Ford or Jackie Kennedy."