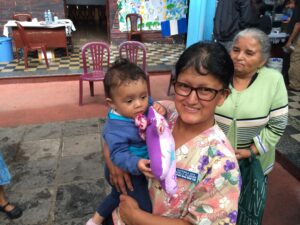 By Michael Ashcraft and Mark Ellis
Dal Basile worried about bringing her special needs daughter, 25-year-old Michelle Villaseñor, on a medical mission to Guatemala.
Developmentally delayed, with a second grade educational level, Michelle could get lost in the crowds forever. Would she regret the decision?
But after they arrived in Guatemala City and set up their free medical clinic, a woman ventured in with heart palpitations. She had a daughter who was also developmentally delayed, and it was robbing her peace. This patient needed more than pills; she needed love, understanding and hope.
"I told her I know what it's like to have a special needs daughter, and I know that God can work in your daughter's life," Dal recalls. "I told her, 'God chose you because you're a gifted person.' I went and brought Michelle. And Michelle prayed for the woman. She broke down crying. I cried. We cried together and hugged each other."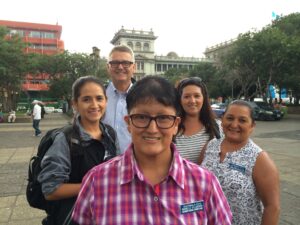 Whatever doubts she retained about the wisdom of bringing her daughter 2,600 miles away from home to the commotion and crime of Guatemala City were put to rest right then and there.
"Just for that one particular woman, God had me bring my daughter to Guatemala," Dal said. "That's the way God is. He cared about that family so much that he had me drag Michelle down here. God used us to lift her up to know that God is going to use her in a mighty way. I told her to be patient because God is doing a work in her life."
Lighthouse Medical Missions is better known for its clinics in Africa. The group completed about 30 of them, mostly in West Africa, stoking revival in nations where Islam is a stronghold. But now Dr. Bob Hamilton, the Santa Monica pediatrician who leads the charity, wanted to hit Central America. He pressed Dal to bring Michelle since she's helped pack meds for 17 years. He wanted her to see the fruits of her labors.
Lighthouse Medical Missions treated 550 patients in Guatemala who suffered from high blood pressure, diabetes, burns and the new dengue-like chikungunya fever that provokes severe bone and joint pain.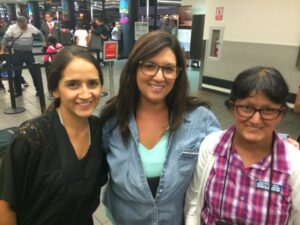 For sick bodies they prescribe pills, for sick hearts they administer a dosage of Jesus.
Abigail Esteban's 14-year-old daughter weighs only 33 pounds, the result of developmental delay so severe she doesn't know how to eat.
Dal knows what that's like. "I couldn't breastfeed or bottle-feed. I literally had to squirt milk in her mouth and pray that I wasn't going to choke her," Dal told Abigail. "But now look at her."
Abigail peered through tears at Michelle, who smiled, standing by with eyes of compassion. The reality is that Michelle's special needs conditions are hardly perceptible. She lingered around the clinic with a non-stop smile, doling out lollipops and toys to poverty-stricken children and gently giving hugs to babies.
"I love this trip," Michelle says. "I held a lot of babies."
With Michelle in front of her, Abigail gathered courage to continue fighting for her daughter. Dal said she achieved a progress in Michelle better than doctors expected through prayer.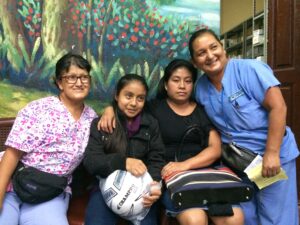 "Dal told me to keep on fighting for my daughter and to not give up," Abigail explained later in Spanish. "She helped me a lot because I came stressed out. Seeing Dal's daughter, I hope that my own can progress like her."
Abigail was only one highlight in a week of dispensing medicine in the Liceo Bilingüe La Puerta in Guatemala City and in the Potter's House Church of Villa Nueva, just to the South of the capital city.
With only a pediatrician, one general practitioner and a couple of nurses, they couldn't rely on specialists, blood tests, MRIs and other standard practices in the United States. They had to complete their diagnoses with their smarts and what little information they could gather with the most basic instruments of medicine.
Lighthouse Medical Missions is the brainchild and passion of Dr. Hamilton, who actively demonstrates the compassion of Jesus. He resides comfortably in Santa Monica with no need to subject himself to the difficulties of the Third World, the suffocating heat of Africa, 36-hour plane rides to the farthest reaches of the globe. But the love of Christ compels him.
Twice a year, Dr. Bob takes volunteers – who pay their own travel and accommodations – to somewhere for a week of 10-hour days shuttling through record numbers of the poor and sick. At times, the patients have walked for hours or ridden in buses from far away. Especially in Africa, the scarcity of doctors deprives people from care. Usually people are too poor to pay for the doctor's visit, if there is a doctor where they live.
Also meds are scarce around the world. The lion's share of money raised for Lighthouse Medical Missions goes to meds. On the trip to Guatemala, more than $11,000 was spent on the meds.
Dr. Bob takes volunteers from all over the country, and he has a group of regulars who willingly undergo what sometimes amounts to shock at the appalling conditions in the poorest countries of the world. In Sierra Leone, they saw civil war victims whose limbs had been chopped off by rebels. People live on one meal a day because of acute chronic poverty. Patients die of wounds because they live where there is no potable water, so they can't clean their wounds or change their bandages.
Why does Dal accompany these clinics time after time?
Because she tears up when she ministers to people like Abigail.
"We both talked and we prayed and we cried. We cried a lot," Dal says. "By the end of our talk, we were smiling and hugging each other and best friends. I got a picture of her. I got a picture of her daughter. She got a picture of us. We'll pray for each and remember each other forever."