By Dan Wooding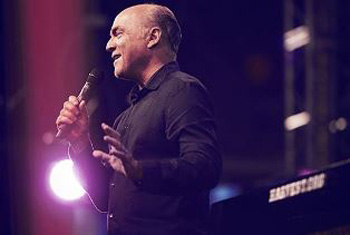 Angel Stadium of Anaheim lived up to its name this past weekend, August 28 – 30, 2015 as participants at the 26th annual Southern California Harvest Crusades with Greg Laurie experienced some holy moments of their own.
Some 105,000 people gathered at the stadium for the 2015 SoCal Harvest, coming to hear music from top Christian artists like Phil Wickham, THIRD DAY, Citizens & Saints, Lacey Sturm and Jeremy Camp, as well as a message of hope from local pastor and evangelist Greg Laurie.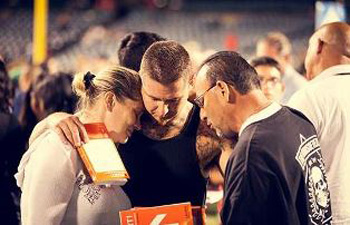 Laurie gave his nightly talk from a stage adorned with a verse from the Bible that could be seen from the stands far away: "Jesus said, 'I am the way, the truth and the life and no one comes to the father except by me.'—John 14:6." This message was repeated throughout the weekend as Laurie spoke to the crowds gathered about eternity in messages entitled, "Happiness: What it is and How to Experience It," "The Point of No Return," and "Hope for the Afterlife."
Laurie said to the audience on Sunday night, "Life's going to come to an end, but the good news is that the soul lives on. You need to think very seriously about that, because once you die and enter the afterlife, you can't change your destination. You want to think now about where to spend eternity, and you have two choices: heaven or hell." Laurie continued, "Heaven is not for good people, heaven is for forgiven people, and you can be forgiven tonight. I believe many of you have an appointment with God tonight; now it's up to you to believe in Him and put your faith in Him, and leave this place a brand new person on the inside."
"At the end of his message each night, Laurie gave an invitation to those in attendance to make their way to the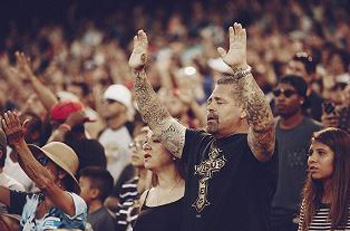 outfield of Angel Stadium to put their faith in Christ, and 10,451 people did just that over the course of the weekend. Another 308 people made professions of faith via the live Internet broadcast of the Harvest Crusade," according to a  news release from the organization.
"This really is Angel Stadium tonight because the angels are watching and rejoicing over every person who comes to repentance!" said Laurie as crowds streamed down from the stands.
Taking the Message to the World
While tens of thousands gathered at Angel Stadium over the weekend, many more listened to the 2015 SoCal Harvest through a variety of media options. A large audience across the U.S. and around the world were able to participate in the 2015 SoCal Harvest via live and archived Internet broadcasts (www.harvest.org), as well through radio broadcasts (450 stations carried the Harvest Crusade live), live and pre-recorded television programs, digital media like Roku,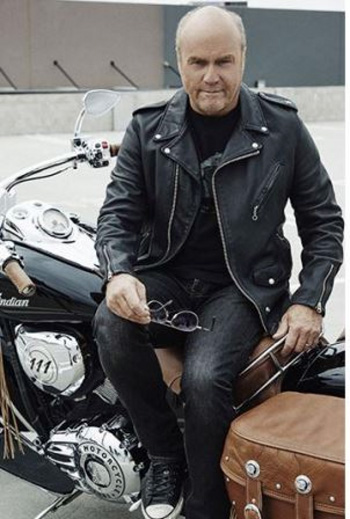 podcasts and live blog updates, and various forms of social media including Facebook, Twitter and Instagram.
All nights of the 2015 SoCal Harvest were broadcast on the Internet, and there were 122,922 webcast views from people in all 50 states and 142 countries around the world. In addition, 308 Internet viewers made professions of faith in Christ after watching the Harvest Crusade online. The 2015 SoCal Harvest is archived and available for viewing at www.harvest.org.
With a trademark ability to present a clear gospel message in a culturally relevant format, drawing on the latest in current events, contemporary Christian music, and technology, Greg Laurie's Harvest events have been attended by more than 7 million people worldwide since 1990, both in-person at stadium and arena events and via live Internet broadcasts. Laurie serves as senior pastor of one of the largest churches in America, Harvest Christian Fellowship, which has campuses in Riverside and Irvine, Calif. He serves on the board of directors for the Billy Graham Evangelistic Association.
Next year, Harvest with Greg Laurie will simulcast a coast-to-coast evangelistic outreach called Harvest America from AT&T Stadium in Dallas (March 6, 2016).