By Victors Silis —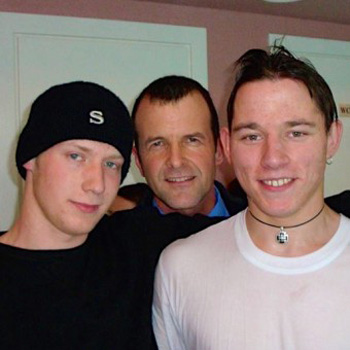 I come from an alcoholic family. Our father left us when I was about six years old. Before he left he beat my mom on a regular basis. I grew up surrounded by alcohol and abandonment. A lot of times it got to the point where we didn't have any food at home.
My two older siblings and I went to a local boarding school in Tilža, Latvia. We would be at school during the week and then come back home for the weekend to find that there was no food and no parents to look after us, as our mom would disappear for days whilst drinking. So we had to grow up rather early in our lives.
I remember that one day, in 2002, my cousin invited me to a Bible study that was next door to his house. I didn't know what to make of it so I went along to check it out. It was at Dan and Katie's house. I had a great time there. So I kept on coming back and hanging out with them a few times a week. Dan would also buy us food and bring it over to our house. This was the place where I heard about Jesus for the first time. I accepted Jesus into my life even though I didn't really understand what I was getting myself into. I was eleven years old.
Some time later my cousin, Gintis, and I started to skip school, drink and not go home for days at a time. In order to do all of this we needed money. Our families didn't have any so we started stealing. We even stole from Dan and Katie. As a result we hurt people who really loved us and, in 2005, ended up in a correctional institution for boys for two years. I didn't see Dan and Katie for about three years.
Three years later, due to different circumstances in my life, I had to see them again, even though I was ashamed. Yet they loved me unconditionally and accepted me as if nothing had ever happened. They even offered me a place to live and work at Eagle's Wings camp. So I went. A few weeks after I arrived, I realized that I needed Jesus to come back into my life. So I accepted Him into my life again.
In the summer of 2009, I had the great opportunity to visit Dan's farm in Christmas Valley, Oregon. After that I went to the UK, to a ministry training course for nine months. When I finished the course, God spoke to me, with the result that I stayed to work for a homeless charity, during which time God showed me many things. I lived in England for four years.
About six months ago, I was invited to come and live at the camp again. I took the opportunity and had the privilege to help with the building of the new lodge. I have also had the honor to be part of the camps and serve the children who come.
I continue to view the Roth's as my family and Dan and Katie as my parents. Whenever I have an important decision to make or something that I am not sure about, Dan is my number one person that I go to and he always gives me good advice. He is the father I never had.
When I look back at my life, I can see so many times that God has helped me and saved me from so many mistakes that would have ruined my life. Even in the times of my wandering I know now that He was there all along.
I thank God for all that He has done in my life and I can't wait to see what great things He has coming my way in the future. — Bridge Builders International
If you want to know more about a personal relationship with God, go here