By Mark Ellis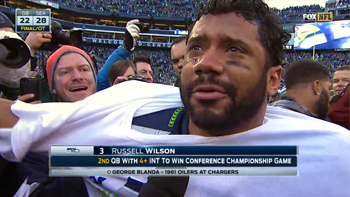 In one of the most unbelievable come-from-behind wins in NFL play-off history, quarterback Russell Wilson led his team on a brilliant final drive to beat the Green Bay Packers 28-22 in overtime.
Filled with emotion, Wilson dropped to his knees and sobbed with joy among several Christian teammates after his final 35-yard pass to Jermaine Kearse won the game. He and his God-squad kneeled for several minutes, praying and glorifying their Lord and Savior Jesus Christ as the stands in Seattle erupted.
"God is too good, all the time – every time!" Wilson told Erin Andrews of Fox Sports immediately after got up from his prayer huddle. "I am just honored and blessed to be on this team."
Wilson overcame four interceptions during the game and the Green Bay Packers seemed like they were coasting to a win until the game turned around in the final minutes.
Andrews asked Wilson about his mindset in the final minutes of the improbable turnaround – the key to winning the game.
It was "just to keep making plays, to keep believing. I had no doubt; we had no doubt as a team." In the seesaw battle between faith and doubt, he had taken Jesus' words to heart: But when you ask, you must believe and not doubt, because the one who doubts is like a wave of the sea, blown and tossed by the wind.
God gave Wilson assurance he would throw the final touchdown pass to win the game – and prophetically, he told Darrell Bevell, Seattle's offensive coordinator, minutes before it happened.
"The funny thing is I was on the sidelines right before we went out for that last drive and I told Bevell to be ready for the check, the play we just ran for the touchdown. I said, 'I'm going to throw a touchdown and win the game and sure enough (it happened).'
"God prepares me for these situations and God prepares our team as well," he said.
While there are 11 men on the Seahawks team, Wilson considers God his 12th Man.
"There was no doubt in this team. When we were 3-3, there was no doubt. When we were 6-4, there was no doubt. When the score was whatever the score was and we needed two touchdowns, there was no doubt. When I threw that ball to Doug Baldwin, and I threw it to (Jermaine) Kearse there was no doubt. It's because of this 12th man, God is too good man. I'm just glad to be here on this team, and we're going back to the Super Bowl."
For the first 58 minutes or play, the Seattle Seahawks could not have played any worse.
Wilson got sacked four times and threw four interceptions. Jermaine Kearse seemed to have trouble catching any pass thrown in his direction.
But in the last 44 seconds, the Seahawks scored two touchdowns and a total of 15 points. Instead of going home in defeat, they're headed for Glendale, Arizona, where they'll compete for a Super Bowl title in two weeks.