By Michael Ashcraft —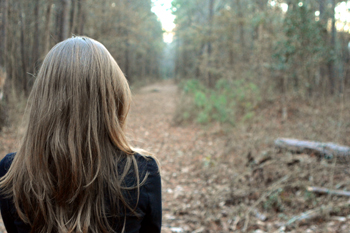 Raised by two lesbian mothers, Heather Barwick was an ardent feminist, gay rights and pro-choice activist who fully embraced moral relativism.
Seeing Christians who carried signs that proclaimed "God hates sinners" and "AIDS cures homosexuality" at gay pride parades, Heather seethed against Christians, believing them all to be characterized by hate.
But when she met her boyfriend 's parents in college, the Christian stereotype shattered. "They were kind, thoughtful, loving, wonderful people who totally rocked my worldview of what Christians were like," Heather says.
Her curiosity piqued, she began attending church but spent most of the services crying because she kept thinking, "these people are so brainwashed," she recalls.
As she listened to sermon after sermon, she realized that part of her resistance toward God came from her own lack of a loving father.
"Because my relationship with my own (biological) father was so messed up, it actually grated against me to think of God as my father," she notes. "I was going through a huge period of seeking. I was ok by worldly standards – I got good grades, played sports, had friends – but I was a mess inside."
She criticized sermons. She resisted hugs from people in the church. She argued with church members, "but my heart was crying out for the truth," she recounts. "I put up a fight and resisted God's call on me. I was saved by God's relentless pursuit."
After marrying, Heather came to grips with the consequences of being raised by two lesbians, she says.
"It wasn't until my husband and I had children and I watched him with our kids that the full weight of what I'd lost with my own father hit me – and it hit me like a ton of bricks," she says. "Many people believe that so long as a child has two parents, gender doesn't matter. But it does. I shouldn't love my dad, but I do. I should love my 'other mom,' but I don't. I can't change that, though I've definitely tried."
Heather lost her biological dad before she could remember. He was a lousy father, she says, and her mom decided she was gay and wanted to pursue her own happiness with a lesbian lover.
"I love my mom deeply, fiercely, and unconditionally. She is an incredible woman," she says. "But I cannot pretend that her decision to leave my father and raise me with another woman did not have long-term and devastating consequences for me. I am a casualty of same-sex parenting."
"We have to recognize that all children of same-sex parents are being raised in brokenness. Something precious and irreplaceable has been taken from us. Two loving moms, or two dads, can never replace the lost parent. I was intentionally separated from my other biological parent and then told that 'all that matters is love' and 'love makes a family.' Love matters, but accepting and promoting same-sex parenting promotes the destruction of families, not the building of families.
"Do I wish my mom lived a miserable life married to a man she didn't love? No. I want my mom to be happy," she says. "But I also wish that she and my dad did love each other and that somehow it could have worked out. Her happiness cost me a great deal."
Part of the cost was growing up exposed to sexual material when she was only a child.
"I was exposed to a lot of inappropriate things very early on – from the adult toys and pornographic magnets in the local gay and lesbian bookstore, to the men who parade around in S&M costumes at gay pride festivals."
That in part led her to sexual activity from a young age. "My interaction with and exposure to these parts of the larger gay culture and my missing father created the perfect storm that led to my early sexualization."
Not having a father created an off-the-charts desire for male attention, she says.
"As I got older, I used attention from boys to try to fill the wound my missing father left. I found myself in two abusive relationships in college because I was looking for the love and approval of a man but I had no idea how a good man should treat me. I accepted almost anyone who would love me."
Divorce may be necessary some times, but it leaves scars on children.
"When you are separated from a parent, for whatever reason, a wound is inflicted upon you," says Heather. "I ached for my father to love me. I ached for the father I knew I would never have. Losing my father was a tragedy in my life, and it is a loss that I feel deeply every day. It's a loss that can be ignored or numbed, for a short time, but never forgotten. Growing up without my dad colored everything about me. I had abandonment issues. I expected and feared that everyone close to me would leave me. Even as an adult I still grieve for what was taken from me."
Today Heather is happily married and attends a Christian church.
"I struggled with accepting scripture about homosexuality and punishment for unbelievers because I couldn't see my mom as a 'bad person,'" she says. "But God was patient and eventually I just could not deny the truth for any longer. Today I joyfully proclaim Christ as my savior and God as my father."
If you would like to know more about a personal relationship with God, go here