By Mark Ellis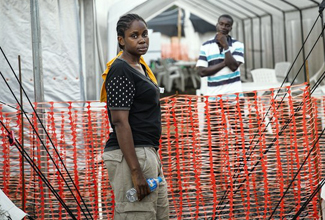 The Atlanta-based U.S. Centers for Disease Control and Prevention warned the Ebola virus can hide in sexually transmitted fluids for as long as 90 days after someone is declared "virus free" and leaves the hospital.
For that reason, survivors of the dreaded disease are advised to forego sexual relations or use a condom for at least three months after their release.
"Because Ebola can stay in semen after recovery, men should abstain from sex (including oral sex) for three months. If abstinence is not possible, condoms may help prevent the spread of Ebola. Sexual transmission of Ebola has never been reported," the CDC states on their website.
The Wall Street Journal recently told the story of Helena Henry, a 30-year-old seller of secondhand clothing in Monrovia, Liberia. The disease killed her mother, two brothers, grandmother, and sister-in-law.
After Helena contracted the disease in September, she and her mother checked into an Ebola clinic together. Sadly, she watched her mother's painful death on the other side of the tent.
By God's grace, Helena survived Ebola and went home to celebrate with her fiancé. "We interacted," she told The Journal, modestly referring to having sex.
Only a week later, she was back in the same clinic with her fiancé, who apparently contracted Ebola through sexual relations with her. On October 10th, her fiancé – who once studied to be a pastor – passed away.
When Doctors Without Borders releases patients from a clinic they operate in Monrovia, they urge the men to use condoms, according to The Journal.
Other clinics in the capital give survivors a certificate that warns them in large letters not to have sexual relations for 90 days.
The Ebola virus has already infected more than 13,000 people in West Africa. The World Health Organization projects the disease could afflict 10,000 people a week by December.
As of October 31st, roughly 5,000 have perished from Ebola, but that number doesn't include thousands in outlying areas who were never hospitalized or professionally buried, according to The Journal.