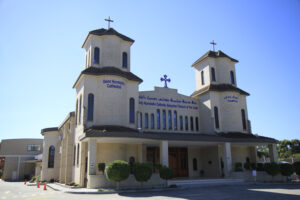 A man claiming to be a member of the Islamic State (ISIS) walked into the front yard of St. Hurmiz Assyrian Church, in Greenfield Park, Sydney, and shouted "come out you dogs, I will burn this church down in 1 explosion in 2 hours, just wait." According to witnesses, the man approached from a nearby shopping center.
The police were called and the church provided them with video footage from security cameras. The man was arrested later in the day, but may be released for lack of stronger evidence.
Church members were shaken. A women said she now fears to attend church because of the bombing threat.
The church is now under 24 hour surveillance by the police and private security guards.
Please pray for the St. Hurmiz Assyrian Church in Australia, and all Assyrian churches throughout the world. –Assyrian International News Agency