By Mark Ellis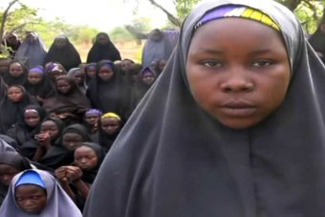 More than 91 people – including 60 schoolgirls and young women, plus 31 schoolboys – were kidnapped last week by Boko Haram extremists, two months after the same group kidnapped more than 300 schoolgirls in northeastern Nigeria, according to the Los Angeles Times.
They were also abducted from villages in northeastern Nigeria, an area where such attacks have been happening almost daily, while Nigeria's army appears to be unable to enforce security in most of the country.
Many have criticized Nigeria's government and military for their slow response to the abductions of more than 200 schoolgirls from their school in Chibok on April 15. Several dozen of the girls were able to escape.
About 30 people were reported to have been killed by the extremists in the latest attack. Elderly residents fled their homes, trudging 15 miles to get help.
Among those abducted by gunmen were women with young children and babies – a common occurrence in Borno state since last year, Nigeria's Premium Times reported.
Some Nigerian government officials refused to confirm or deny the report of the latest abductions. But Nigeria's Premium Times quoted an unnamed federal security official who confirmed the abductions took place, and a village official confirmed the kidnappings to Associated Press.
Boko Haram is attempting to impose an Islamic state in Nigeria. In pursuit of its goals, it stepped up attacks five years ago and has recently launched violent raids on churches, schools, villages, markets, and bus stations.
The radical Islamist group is also blamed for bomb attacks on soccer fans watching World Cup soccer matches at public soccer viewing venues, according to the L.A. Times.
The latest abductions will increase the pressure on Nigeria's government and military to recover all the schoolgirls and restore security in the northeast. Boko Haram leader Abubakar Shekau released a disturbing video in which he threatened to sell the schoolgirls into slavery.
But Nigerian authorities appear feckless in the face of these challenges, unable or unwilling to respond effectively. Boko Haram insisted on the release of prisoners in exchange for surrendering the Chibok girls, but Nigerian president Jonathan refused to negotiate with the terrorists.
Military commanders say a military-style raid is impractical because it would result in the deaths of many of the schoolgirls.
Former President Obasanjo said earlier that he has been attempting to negotiate the girls' freedom, but received no support from the government. He said it would be a "near-miracle" if all the girls were returned to their parents alive, according to the L.A. Times.
Politics have complicated the issue, with many preoccupied by upcoming presidential elections set for February, 2015. The first lady, Patience Jonathan, and some other supporters have claimed the reports of the April abductions of the schoolgirls were fabricated to discredit her husband's administration, according to a report by CBC Radio Canada.
Last week, a presidential committee investigating the prior kidnappings confirmed they happened and clarified the number of students who have been kidnapped. It said there were 395 students at the school, 119 escaped during the siege of the school, another 57 escaped in the first couple of days of their abduction, leaving 219 unaccounted for.