By Dr. John Eibner, Christian Solidarity International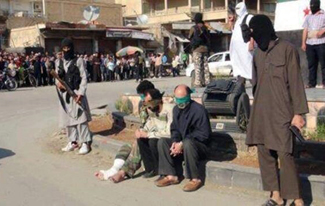 On Tuesday, an al Qaeda-linked terror group called the Islamic State in Iraq and Syria (ISIS) seized control of Iraq's second-largest city, Mosul – population 2 million.
For over a year, ISIS has been subjecting Christians in Syria to a reign of terror – burning Bibles and churches, kidnapping and killing priests, and enforcing Islamic law with horrific brutality, including torture and public crucifixions.
Earlier this year, ISIS gave Syrian Christians in Raqqa province 48 hours to convert to Islam, pay protection money – or be killed. When I traveled to Iraq this April, I met over 70 Syrian families who had fled for their lives to Iraq after being given this terrible choice. Thanks to our donors, we were able to provide them with food, clothing, and medicines.
Now ISIS is seizing huge swathes of territory in Iraq, and marching on the capital, Baghdad. More than half a million people have fled ISIS' attack in the past few days.
Over two-thirds of Iraq's Christians have already fled the country. Those who remain are now in very real danger. As Nina Shea, a former U.S. Commissioner for International Religious Freedom writes, "the religious cleansing of Christians from Iraq is entering the end game."
CSI is mobilizing a relief effort for the people who are fleeing their homes in Mosul. As the Islamic State in Iraq and Syria marches on, creating chaos and death, will you take a stand for the Christians of Iraq and Syria?