By Mark Ellis and Melissa Nordell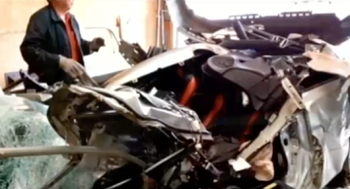 Christopher Hein, 17, of Athens, Georgia was driving to school on March 14 when the sun blinded his eyes during a left turn. Little did he know that an 18-wheeler was barreling down on the intersection from the opposite direction at full speed.
The big rig smashed into Christopher's Honda Civic, pushed it 120 feet, then rolled on top of the small car, crushing him underneath, according to WAGA Fox 5 in Atlanta. After an extensive extraction operation by emergency personnel, Christopher was flown to Atlanta Medical Center by helicopter.
He arrived at the hospital in critical condition. "He already had a breathing tube in, that was breathing for him, his blood pressure was low. He had an obvious leg fracture, his head had multiple bruises, and he was actively bleeding," Dr. Stephanie Pannell, the neurologist who first examined him, told WAGA.
Christopher's mother, Karen Christopherson, says that as she first heard of the wreck, she turned to God. "I prayed. I fell to my knees and I prayed. And I screamed." She immediately alerted others, and prayers from the community, family, friends and classmates poured in for Chris.
"That normally would have killed somebody on impact," she noted.
Dr. Pannell said her first evaluation indicated his chances of survival were slim. A short time later something happened that surprised the doctor. "He actually opened his eyes and looked at me in my eyes and I thought, 'this kid's going to pull through this,'" Dr. Pannell recounted to WAGA.
Christopher improved steadily and after seven weeks was transferred to rehab at Shepherd Center where he has endured a rigorous physical therapy program.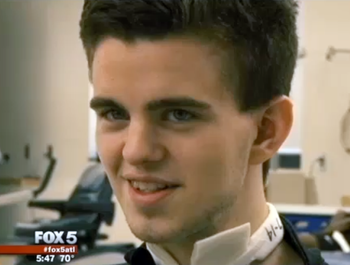 Against all odds, doctors expect Chris to make a full recovery. He is scheduled to return home in a few days. Christopher's mom says, "I want people to know that God is still in the miracle working business."
Dr. Pannell agrees, "It makes me want to cry. He is a true miracle."
And Christopher himself, dubbed the 'Miracle Boy,' shows his guests the scar on his head in the shape of an 'M.' He says: "It's an 'M' right here…So yeah, it's 'M' for miracle."