By Mark Ellis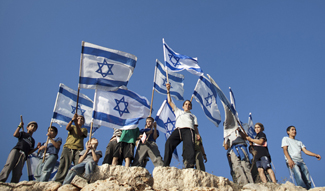 There is mounting concern that something has been chipping away at Christians' rock-solid support for Israel. One ministry leader sees several reasons behind the shift.
"There has been a bit of a retreat by evangelicals on support for Israel," says Dr. Mitch Glaser, president of Chosen People Ministries. "Christians are walking through the valley of decision regarding Israel, and many of our brothers and sisters are making the wrong choice."
Dr. Glaser points to several misconceptions behind the shift.
Myth #1 – Christians who love Israel do not care about Arabs, Muslims, or Palestinians. "Nothing could be further from the truth," Dr. Glaser says. "There is no negotiating on love and loving those you find unlovable," he says. "It's really important we love Israelis and Palestinians. One can be pro-Israel and pro-Palestinian."
Myth #2 – Christians who believe that Modern Israel is the fulfillment of prophecy believe that the government of Israel "can do no wrong."
"I don't know any Jewish people or Christians who believe that any human government can do no wrong. This is a false argument designed to bolster a more radical fundamentalist Muslim narrative of the Israel-Palestinian conflict," he says.
Myth #3 – Christians unfairly favor the Jewish people over the Palestinians because they believe the Land belongs to the Jewish people. "It was not man's idea to choose the Jewish people and give them a Land—it was God's," Dr. Glaser notes. "This is not a question of fairness or unfairness. This simply demonstrates that God treats different groups according to His holy purposes. He is God—it is His prerogative."
"People are not reading their Bibles as literally as they did in previous years," Dr. Glaser observes. As a result, some Christians do not believe Israel was promised the land.
Myth #4 – Israel and the Jewish people do not have a right to the Land because the Jewish people have not yet come to Christ. "It is true that the majority of Jewish people alive today have not yet come to know Jesus as Messiah. However, our God of grace did not promise the Land to the Jewish people on the basis of their deserving it—any more than the salvation we enjoy was earned," he says, referencing Ephesians 2:9-10.
"The Covenant made with Abraham stands from generation to generation. The Jewish people do not need to earn the right to the Land, as it was given by God as a gift."
Myth #5 – The Jewish people lost their election and any rights to the land when they rejected Jesus. Dr. Glaser says the budding influence of replacement theology has led to this growing misconception.
"Their teaching goes like this: the Jewish people rejected Jesus, so God rejected the Jewish people – the Church then is the new Israel and has replaced Israel. Therefore, all the promises of God to the Jewish people are fulfilled in the Church. As a result, the promise of the Land of Israel has been taken away from the Jewish people and it can no longer be taken literally," he says.
Dr. Glaser believes New Testament scholar and former Anglican Bishop N.T. Wright has influenced many with his eschatology. "He has a concept of a reformed, renewed creation," Dr. Glaser observes. He teaches that at the Second Coming, all ethnic distinctions are obliterated.
"There is no literal fulfillment, no land promises. Everybody who names the name of Jesus inherits a renewed earth, so none of the prophecies are still attached to Israel and the Jewish people."
In response to this interpretive drift, Dr. Glaser quotes the Apostle Paul in Romans 11:28-29: "From the standpoint of the gospel they (the Jewish people) are enemies for your sake, but from the standpoint of God's choice they are beloved for the sake of the fathers; for the gifts and the calling of God are irrevocable."
There is also a growing segment in the Church who devotes less time and attention to End Times debates. "They say eschatology is not important. People over-reacted to Hal Lindsey's "Late Great Plane Earth" and Tim Le Haye's "Left Behind" series. The pendulum has swung a little bit where people are less interested in the End Times, so people don't talk about it."
Some in this camp have a heightened interest in social justice. "Mission in some circles has been re-interpreted as social change," Dr. Glaser observes. "Because they don't have strong views about what the Bible teaches about God's ongoing covenant with Israel, it becomes a matter of politics."
"If it is a matter of politics," he adds, "they are persuaded to go for the alleged underdog Palestinians. Many younger generation evangelicals have made social justice a primary hermeneutical tool to understand the Bible."
Dr. Glaser believes in social justice."But don't throw the Jewish baby out with the social justice bathwater," he says.
Dr. Glaser says it is time for those who believe in the literal promises of God to the Jewish people to raise their voices and be heard. "Loving Israel and the Jewish people is an affirmation of God's promises in the Bible, and this love and support prepares Jewish hearts for the Gospel!
"My hope is all this discussion will lead to greater love for the Jews and the Palestinians."