By Dan Wooding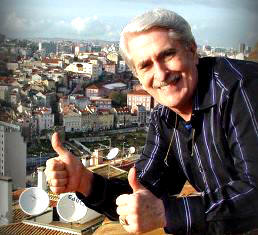 Paul Franklin Crouch, a pioneering televangelist who founded Trinity Broadcasting Network, the world's largest Christian TV network, died Saturday, November 30, according to the network's website. He was 79.
A short statement, posted on www.tbn.org, read: "Dr. Paul F. Crouch passed into the presence of the Lord on November 30, 2013. We are grateful for the life of this amazing servant of God. Please pray for the Crouch family during this time."
Crouch had fallen ill in October while on a visit to a TBN facility in Colleyville, Texas, and was taken to a Dallas-area hospital. He had "heart and related health issues," the network said, and he was later returned to California for continued treatment.
"The son of a Missouri missionary, Crouch moved to California in the early 1960s to manage the movie and television unit of the Assemblies of God," wrote Elaine Woo in the Los Angeles Times (www.latimes.com). "A decade later, after receiving what he believed was a message from God, he began to buy television stations, cable channels and satellites and developed enough Christian programming to sustain a 24-hour network.
"By the mid-1980s, Orange County-based TBN was 'the country's most-watched religious network,' according to J. Gordon Melton and Jon R. Stone in their book 'Prime-Time Religion: An Encyclopedia of Religious Broadcasting.'"
Woo went on to say, "With his bubbly wife Jan, Crouch anchored TBN's flagship program, 'Praise the Lord,' a nightly two-hour talk show featuring guests, Scripture and entertainment. He was known for preaching a gospel of prosperity, imploring viewers to open their pocketbooks to further God's works and reap spiritual and material blessings in return.
"During four decades on air he often generated controversy, in particular because of the extravagant lifestyle he and his wife led. Critics complained that his jets, mansions and lavish expense-account meals were paid by tax-exempt donations from TBN's legion of 'prayer partners,' whose pledges enabled the network to surpass its rivals in size and global reach."
John Hagee founder and Senior Pastor of Cornerstone Church in San Antonio, Texas, said, "Paul Crouch changed the course of Christian history by building a Christian network that spreads that Gospel of Jesus Christ to the nations of the world every day. Our deepest sympathies for his loved ones today."
The Christian News Service story went on to say, "In recent years the ministry has been plagued by questions of financial accountability about use of donated funds.
"Born in St. Joseph, Missouri, Crouch graduated from the Central Bible Institute and Seminary in Springfield, Mo., in 1955 with a degree in theology. TBN reaches every major continent via 84 satellite channels and over 18,000 television and cable affiliates around the world.
"Crouch is survived by his wife, Jan, and sons Paul Crouch, Jr. and Matthew Crouch, who has since been named as the new president of TBN.
Note from Dan Wooding. For about two years, I was a regular guest for some two years on TBN's "Joy" program with host, Jim McClellan, when I would bring stories about the Persecuted Church. One of my strangest experiences was the occasion when I was invited to appear on the "Praise the Lord" show with Rosey Grier and T.L. Osborn. But on the morning of the show, I received a phone call from someone on the program saying that Jan Crouch had decided that she didn't want me on the show. So I didn't drive down to the studios.
But then, at the start of it, Jim McClellan announced on the air that I was to be one of the guests and so, bemused, I phoned the studio and Jim said he hadn't been told that I was cancelled, so I should come straight over. I did and was able to share the story of a Russian Christian prisoner, Alexander Ogorodnikov, who had asked Mikhail Gorbachev to order that he be executed by firing squad, as it didn't seem to Alexander that anyone cared about his plight. I was able to share this moving story and then asked viewers to send letters of encouragement to Alexander, which they did in there thousands. They were then dispatched to his labor camp in Siberia and some time later, after his release, I was able to meet him in Moscow where he shared what an encouragement they had been to him. So even though I was "banned" from the show, a mistake allowed me to still appear and blessing a Russian Christian heroe.
On another occasion, I took Brother Andrew – "God's Smuggler" – to appear on a "Praise the Lord" show which was being hosted by a country singer, resplendent in a huge cowboy hat and boots. When he saw Brother Andrew, he confessed that he hadn't read "God's Smuggler" and didn't really know anything about him. Andrew was not pleased and told me, "Let's leave right now. If he can't be bothered to research his guest, I don't want to be on the show with him." I managed to persuade him to stay and said, "Look, Andrew, I'll write up the questions for him and then you just take over from there." Fortunately, he did just that, and his appearance was a great blessing to many.
So I have mixed memories of TBN, but still, having that connection did help me, and Brother Andrew, share important messages around the world.