By Dan Wooding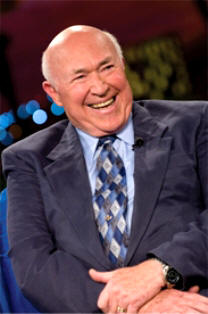 Pastor Chuck Smith, 86, senior pastor of Calvary Chapel Costa Mesa and founder of the Calvary Chapel movement, died early today (Thursday, October 3, 2013), after a courageous battle with lung cancer.
He passed away in Southern California where he had lived with his wife, Kay, for most of his life.
Smith was an extraordinary man, who despite his terrible pain and breathing problems, preached three times last Sunday morning at his huge church.
"Papa Chuck", as many called him, became well-known in the late 60's and early '70s when hippies started flocking to his church and a tent was erected nearby which was packed with young people.
The resulting "Jesus People Revival" transformed worship music and birthed the rise of the Calvary Chapel movement with churches all over the world.
Many of those early hippie converts went on to pastor some of America's largest churches, including Greg Laurie and Mike MacIntosh.
His verse-by-verse Bible teaching was a hallmark of preaching and he would take the congregation through the entire Bible and that teaching was carried on his "Word for Today" radio program . He appeared almost to the end, on "Pastor's Perspective" on the KWVE Radio Network, which was linked with his church and was carried across America, on "World News Briefing" on His Channel (www.hischannel.com).
It was on Sunday (January 1, 2012), when many in the congregation at Calvary Chapel Costa Mesa, were shocked and surprised when Chuck Smith announced during the morning services that he had been diagnosed with lung cancer.
Yet Smith said that he had never smoked in his life.
During an interview shortly after he first announced he had lung cancer, I was able to interview him and I asked him at the time how people could pray for him.
"Well, just pray that the Lord's will be done because whatever it is, I'm open to Him," he said.
Now, the Lord's will has been done and Chuck Smith has finished well and is now receiving his reward.
More to follow…