By Dan Wooding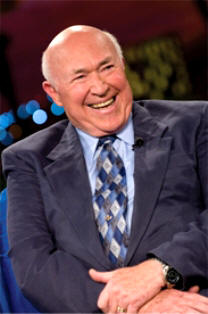 Janette Smith Manderson, the daughter of Pastor Chuck Smith, senior pastor of Calvary Chapel Costa Mesa, California, has issued a  prayer request for her father,who is battling lung cancer.
In a message posted on Facebook, she wrote: "Update for September 20: My dad was just admitted to the hospital for 'general weakness' brought on by the severe anemia his chemotherapy has caused.
"He had a transfusion yesterday, but he told me last night that it had not helped him to feel better. He had received a good report from the doctor that the cancer is not showing up in his blood work, so this setback is a 'bump in the road', as he would say.
"Please ask for the Lord to accomplish His perfect will for my dad, with no interference from the enemy."
She also posted from Psalm 62:5 this verse, "I wait quietly before God, for my hope is in Him. He alone is my rock and my salvation, my fortress where I will not be shaken."
It was on Sunday (January 1, 2012), when many in the congregation at Calvary Chapel Costa Mesa, California, were shocked and surprised when Chuck Smith announced during the morning services that he had been diagnosed with lung cancer.
Yet Smith, now in his mid-eighties and the father of the Jesus People Revolution in Southern California, said that he has never smoked in his life.
On December 27, 2009, Chuck Smith suffered a couple of "minor strokes" and was admitted to a local a local hospital.
During an interview shortly after he first announced he had lung cancer, I was able to interview him and Pastor Chuck explained the lung cancer differed from his previous illnesses.
"This is different because, with the strokes, I was really physically weakened as a result and it took a little longer to rehabilitate from that. But this is something that I expect to just be out for just a short time," he said.
He was correct and, in typical fashion, he has continued preaching on a regular basis, and has also been doing his regular radio and TV programs.
When I asked him at the time how people could pray for him, he replied, "Well, just pray that the Lord's will be done because whatever it is, I'm open to Him."
Since the news initially came out about Pastor Chuck's lung cancer, many thousands of people around the world have been praying for him and I know that, with this latest news, he needs our prayers more than ever.