By Megan Quinn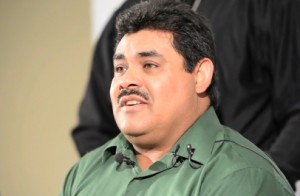 As Roy Ortiz's car filled with fast-moving flood water, he thought about his family and prayed to God. He tried not to panic.
Ortiz, who was driving to work just before 6 a.m. on Thursday on Dillon Road near U.S 287, saw the street was washed out by flood waters. He tried to stop, but became trapped in his car when a bridge collapse caused him to slide off the road into Rock Creek. North Metro Fire Rescue rescued him from his submerged car two hours later.
At a press conference at Good Samaritan Medical Center on Friday, Ortiz credited North Metro Fire Rescue District's skills and his faith in God for helping him survive the harrowing ordeal.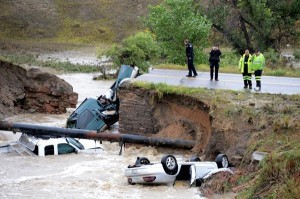 "I need(ed) to relax, because I want to survive for my kids, my wife," he said.
Ortiz, a Broomfield resident, said he called his wife when he fell off the road, then called 911. Before he could get out of his car, two more vehicles on the road crashed into the same creek, causing his car to flip over in the water.
Ortiz survived by positioning his head in a small air bubble near the back of his car, but the sound of the flood waters made it impossible for him to yell for help.
"Everywhere I moved, there was the water," he said. "Two hours was an eternity."
He worried about running out of air. He worried about the car shifting in the water. Yet he prayed and sang to God and trusted that the 911 calls he and his wife had made would be enough, he said.
John Cook, an engineer with North Metro, said he and his team members responded to the scene just before daybreak, when they located three cars that were stuck in the creek.
One motorist was able to escape from his vehicle and crawl up the bank, and another was pulled to safety by North Metro, according to Sara Farris, spokeswoman for North Metro Fire Rescue District
Ortiz, however, was still trapped.
Cook and his team, who are trained in swift-water rescue operations, took an inflatable boat into the creek, where they investigated Ortiz's car for signs of life. When they heard Ortiz's cries for help, they were able to break a car window, pass him a life jacket and eventually get him out of the car.
Cook said his team worked quickly to get everyone to safety, but said it's a miracle Ortiz made it out alive, especially because he had been submerged for two hours.
When Cook saw Ortiz for the first time, "he looked extremely tired," Cook said
At the press conference, Cook met Ortiz for the first time since the accident. The two shook hands and smiled.
"It's nice to meet him and see a smiling face, not an exhausted face," Cook said.
Ortiz said he didn't receive any major injuries, and now just has sore muscles and a sore neck from the two hours he spent in a small space.
He was most relieved to get back to his family, including his wife, Patricia Sosa, who made 911 calls and waited in panic until she heard her husband was safe.
Ortiz also is happy to be reunited with his daughter, 11-year-old Westlake Middle School student Evelyn Sosa. — Bloomfield Enterprise
"I didn't think he was going to get through that, but he did," she said.