by Dan Wooding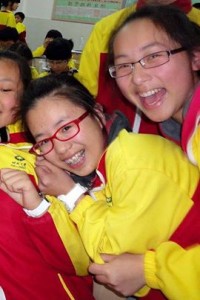 The two 16-year-old Chinese girls who died in the fiery crash at San Francisco International Airport of Asiana flight 214 on Saturday, were planning to attend a three-week academic church camp in Southern California. Wang Linjia and Ye Mengyuan were among a group of Chinese students traveling to the U.S. to take part in the camp organized West Valley Christian Church and School (WVCS), in West Hills, California. 
The two girls died when their plane came in low and the tail hit the ground near the edge of the bay, breaking up the Boeing 777 and engulfing it in flames. The plane was carrying 291 passengers and 16 crew.  The bodies of the two teenage victims were found on the runway, said San Francisco Fire Chief Joanne Hayes-White. It was not clear whether they had been pulled from the plane or ejected. 
However, Reuters is reporting that an emergency vehicle rushing to the scene of the Asiana Airlines crash may have run over one of the two teenage Chinese girls killed in the incident, the local fire department said on Sunday. San Francisco's medical examiner is now conducting an autopsy to determine the cause of the girl's death, fire department spokeswoman Mindy Talmadge said.  "One of the deceased did have injuries consistent with those of having been run over by a vehicle," Talmadge said. "Many agencies were on the field yesterday." 
Asiana Flight 214 originated in Shanghai and stopped in Seoul before flying to San FranciscoInternationalAirport, where it crash-landed, killing the students and injuring more than 180. 
A message posted on West Valley Christian School's website said: "En route to WVCS were 35 Chinese students who were on the airplane that crash-landed in San Francisco. They were scheduled to be here on Tuesday for three weeks. Now, we are unsure what their next steps will be… but we are certain that God knows and will help us care for them in this time of crisis. 
"Please join us as we learn how to care for them. Gift cards to pay for missing items in luggage can be delivered to church and school offices. Sympathy cards and other gestures of care are welcomed." The message added, "Dear Lord, give grace to their moms and dads, brothers and sisters. Give us wisdom and compassion as we care for our guests from China." 
West Valley Christian Church and School also announced that they will hold a prayer vigil on Thursday, July 11 at 7 p.m., and added that this is "to remember the two precious girls who died from our group of 35." It stated, "Host families, former host families, and families from the community are welcome." 
The church's senior minister, the Rev. Glenn Kirby said, between morning services on Sunday, that all of them we're "like stunned and kind of numb." He went on to say, "We didn't know them, hadn't met them yet, but we can imagine what it's like to lose teenagers and our hearts go out to the families." 
The United States is a popular destination this time of year for Chinese teens. More than 60,000 attend U.S. camps each summer as a way to improve their English and get a head start in attending college here. 
"We started to pray as a church and as a school," West Valley Christian School administrator Derek Swales told ABC7. "We do not know the final counts. We do not know the numbers. We're waiting to hear so that we can comfort our families that are praying for them." Swales told ABC7 that Valley Christian opens its doors to international students for three-week programs during the summer. Participants study language arts and culture during the mornings and go sightseeing in the afternoon. 
The flight, which started its long journey in Shanghai, was coming to the end of a 10-hour direct flight from Incheon International Airport in Seoul, South Korea, when it crash landed at SFO shortly after noon. At the time, 291 passengers and 16 crew members were on board and more than 100 passengers managed to jump out of the burning Boeing 777 jetliner, or slide down the emergency chutes with their luggage in hand, CNN reported. 
At least 70 Chinese students and teachers were on the plane heading to summer camps, according to authorities in China. Teacher Ye Lianjun told Chinese television that there were 34 people traveling in the JiangshanMiddle School group—five teachers and 29 students including Linjia and Mengyuan. 
Others on the flight were vacationers headed to Yellowstone, Disneyland, the Golden GateBridge and other American attractions such as San Francisco, Los Angeles and New York City. Some were on business trips. Others to see relatives.
A spokesperson at the Bay Area Chinese publication of the Epoch Times said Sunday that the summer programs are "popular, very so" with Chinese students and parents. And in a 2011 Los Angeles interview about the surge in Chinese kids jetting across the Pacific Ocean to summer camps in America, David Lin, president of the Arcadia-based Chinese Cultural Association, said that "summer camp abroad is very fashionable in China now. China is developing fast. As competition intensifies, no parent wants their child to be left behind. "To rise above the rest, they believe, children must be familiar with the outside world and speak a foreign language," Lin said. "So a trip to the world's most powerful country is a very attractive option."
The biggest single group on that flight consisted of the students, especially those from Jiangshan—a fairly prosperous city in one of China's most developed provinces, where the approximate cost of the U.S. trip of $4,700 is increasingly within reach for many families. 
On Saturday night, all 307 on board had been accounted for, authorities said. One hundred eighty-two people had been transported to hospitals, including 49 in serious condition. Among the passengers were 77 Korean citizens, 141 Chinese, 61 Americans and one Japanese, according to South Korea-based Asiana. 
Please pray for the families of Wang Linjia and Ye Mengyuan and their salvation; as well as that of the survivors and their families, and those injured. –ASSIST News