By Mark Ellis —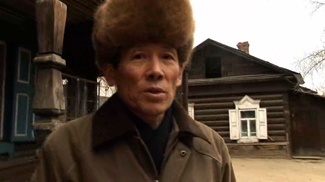 Standing in the dusty dirt streets of his village in eastern Russia, his head is crowned with the fur cap worn traditionally by Russians to ward off Arctic blasts from the north. Yet his broad face reveals the Asian roots of this remote outpost.
"When I was young I struggled to find meaning in my life," says Alexander. "After several bad experiences my family encouraged me to visit a shaman," he says. Shamanism is deeply embedded historically in Siberia and neighboring parts of Asia. Shamans or "priests" attempt to make contact with the supernatural world while in altered states of consciousness.
Alexander's first experience with a shaman left him wanting to go deeper into this realm. "I saved money to become a shaman and eventually became powerful in the community," he recalls. "I was able to heal people and give them success in their families."
Despite his benevolent intentions, the more he practiced shamanism, the more unsettled he became. "I was glad to serve people like this but always felt something was missing."
Alexander had no idea God was calling him until later, after he received an unexpected invitation. "Some Christians invited me to church and I went so I could spy on their God."
He entered the church, believing the gods he served were much more powerful than the Christian God. "I thought my spirits would be stronger than their God," he notes.
But as Alexander sat back in the wooden pew, something unusual happened. "When I closed my eyes I felt God's presence," he says. "It was so strong; I was overwhelmed by its greatness."
Unable to resist the majesty and power of the one true living God, Alexander surrendered his life to Jesus Christ and was born again.
Excitedly, he told his family and friends about finding the truth, but he wasn't prepared for their threats and outright rejection. "My friends and family couldn't understand," he recounts. Upset by their attitudes, he sought a pastor for counseling. "I went to my pastor for prayer and he helped me to overcome my fears."
"I have now begun to work with missionaries here in Russia," Alexander says. "I help others learn what Jesus did for me."
"If you trust the Lord like a little child, He will take your happiness and make it even better than you could ever imagine."  — For more, go to AG World Mission.
If you want to know more about a personal relationship with God, go here