By Mark Ellis —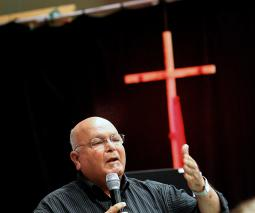 He was a Palestinian fighter trained to kill Jews.  His hatred was so strong he dreamed of poisoning Jews who frequented the restaurant where he worked.
"I hated the Jewish people," says Taysir Abu Saada ("Tass"), founder of Seeds of Hope, a humanitarian organization operating in the Middle East. His objective is to bring long-term change to families through education, economic development, cultural exchange, and humanitarian aid.
He was born in the Gaza Strip and grew up in Saudi Arabia under Muslim teachings. Trained as a sniper by the Fatah movement to kill Jews, he even instructed children about their duty to fight and kill Israelis.
Tass left the cauldron of the Middle East in search of a better life in America. After he arrived in the U.S., he worked in the hotel and restaurant industries in Kansas City, Missouri, where he dreamed of poisoning Jewish clientele.  "These Jewish customers loved me, but I couldn't find any liking for them at all," Tass says.
At one Kansas City restaurant he met an American named Charlie Sharpe. "He was the first customer I served as a busboy who was kind enough to thank me for clearing his dish, which touched my heart," Tass recalls.  "From that time on I made a decision to take good care of this man."
One day Sharpe spoke to Tass about a "spiritual connection" he enjoyed, which brought miraculous blessings and peace.  Weeks went by as Tass pondered what this connection might be.  He begged Sharpe to give him the secret.
Sharpe told him, "Tass, to have the peace that I have you must love a Jew."
Tass was taken aback by this remark.  "I hate these people—you know how I feel about them," he said.
"What do you know about Jesus Christ?" Sharpe asked.
"I know Jesus—he's a prophet," Tass replied.  "As Muslims we believe in him."
"Well, he's more than that.  He's the Son of God–He is God," Sharpe said.
"No way!" Tass said, as he stood up, starting to leave.  Sharpe told Tass to settle down as he grabbed a Bible and placed it between the two men. "The minute he put the Bible between the two of us it was like something powerful just shook me and threw me away from it," Tass recalls.
"Why did you jump?" Sharpe asked.
"I can't touch that," Tass replied.
"Why? —It's just a piece of paper."
"No, it's the Word of God and it's God and the name of God is in it."  Tass's admission stunned Sharpe momentarily.
"So you believe this is the Word of God?" Sharpe asked.
"Yes," Tass replied, as Sharpe reached for the Bible.
"Let me tell you what the Word of God says about Jesus Christ," Sharpe said, as he began to read from the first chapter of the Book of John.  'In the beginning was the Word…'
"When he started reading," Tass says, "I started shaking and I lost control and the next I know I'm on my knees on the floor with my hands lifted up, inviting Christ to be my Lord and Savior," he says.  "I felt like a mountain lifted off my shoulder and a joy and peace came into my heart I never experienced before."
Tears were flowing from Charlie's eyes.  "Man, I've never seen anything like this in my life," he said, as he hugged Tass.  "Do you know what happened?"
"No."
"You've become a Christian," Sharpe told him.
"Well, if the reason I'm feeling the way I'm feeling in my heart is because he is the Son of God, then I want him to be my Lord and Savior."
The next day Tass felt an unusual burden to pray—one he had never experienced before.
"The first people that came on my heart to pray for were the Jewish people," he says.  "I was praying, 'Oh, God, bless your people Israel.  God gather them to the Promised Land.'"
"I heard myself praying that and I put my hand over my mouth and shut my mouth with my hand," he says.
Since then, Tass' wife and children became Christians, and they founded two organizations, Hope for Ishmael, an evangelical ministry, and Seeds of Hope, a humanitarian organization operating in the Middle East. According to Tass, the greatest need exists at Seeds of Hope, where he and his team seek to make a difference in the lives of children and families.
Seeds of Hope operates Hope Kindergarten in Jericho, and is in the process of furnishing a day care center. "The children are learning English so easily," he notes. Enrollment is doubling this year at the kindergarten, with a waiting list over 200.
"We teach English in a nurturing and loving environment, where they learn good character traits such as being kind to each other and how to treat each other with love and respect."
Next year Tass begins work on a cultural center, where English, French, and German will be taught, along with computer classes.
A new youth center under development will offer games such as ping-pong and air hockey, along with a pool table. "We'll have a giant screen TV where the kids can watch soccer and basketball," Tass says. The young people in Jericho and the West Bank have few places to hang out, and as a result spend much of their time on the streets where they are vulnerable to the seduction of groups like Hamas.
Once complete, the youth center will provide a safe alternative for children 9-13.
One of Tass' recent surprises was the gift of a 16-acre parcel by President Abbas to build a sports complex. "This was a shock when we got his letter," Tass says. Tass has already enlisted the help of an architect to help with the "Herodian-style design" he envisions for the site, and will begin raising funds for the project.
"We are praying the Lord will bring in the support needed for the school and the center," he says. "God is turning the hearts of the people. I am humbled to be a small part of what the Lord is doing."
If you want to know more about a personal relationship with God, go here