By Jeremy Reynalds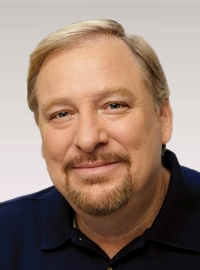 Saddleback Pastor Rick Warren is fine and back home, his wife Kay said Thursday, following a hospital visit for tingling in his arms and hands.
He attended the Anaheim Mayor's Prayer Breakfast this morning," Anne Krumm, a Saddleback Church official, said. "They're doing some more tests but for now he's good to go."
On Tuesday, Warren wrote an email to his congregation asking for their prayers for a "quick and accurate diagnosis and a fast remedy," according to the Orange County Register.
The Orange County Register said Warren wrote, "Last night I started experiencing pain down both my arms and numbness in all my fingers, so I decided to have it checked out at a hospital."
He added, "Currently, the doctor's diagnostic guess is that an inner ear virus I picked up last week may have spread to the nerves in my neck and radiated down my arms. But that's just a guess until they do a full day of tests. This means they're keeping me at the hospital today and overnight."
Warren's hospitalization meant he had to cancel a scheduled Vision Night planned for this week. The Orange County Register reported that he was released from the hospital on Wednesday.
"I'm disappointed by this delay since I am super excited about what I have to share at Vision Night," he wrote. "But I learned a long time ago to always go with the flow and trust God when plans get messed up. His timing is always best."