By Anne Reiner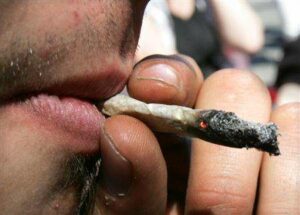 New evidence of marijuana's negative effect on intelligence and, yet, its increasing use by teenagers shows the need to educate young people and prevent the drug's legalization, a Southern Baptist ethics leader says.
Individuals who use marijuana during their teenage years have an average drop in I.Q. of eight points and are vulnerable to mental health problems, according to a study by the Proceedings of the National Academy of Sciences (PNAS) released in August. This news followed a May report that showed marijuana use among teens has grown by 21 percent since 2008.
The PNAS study "adds additional support to the necessity of keeping marijuana out of the hands of adolescents," said Barrett Duke, vice president for public policy and research at the Southern Baptist Ethics & Religious Liberty Commission. "The significant impact marijuana can have on the I.Q. of teens is alarming. We must redouble our efforts to educate young people about the dangers of marijuana use."
The study's release came as more states prepare to vote on whether to legalize marijuana use.
Voters in Colorado, Washington and Oregon will determine Nov. 6 if they want to legalize marijuana for recreational use. Arkansas and Massachusetts voters, meanwhile, will decidewhether to legalize marijuana for medical use. Medical marijuana already is legal in 17 states and the District of Columbia.
Teens' use of marijuana will increase even more if it becomes legal, Duke said.
"Legalization of marijuana will assure its greater availability," Duke told Baptist Press. "Too many teens are already limiting their futures by using marijuana. We shouldn't do anything to add to their numbers. Rather we should do all we can to prevent the tragic results of marijuana use."
Researchers in the PNAS study tested the I.Q. of more than 1,000 New Zealanders from the city of Dunedin over a 25-year span, once at age 13 and again at age 38. The study found 5 percent of the study group was dependent on marijuana, referred to as cannabis by researchers. Those 5 percent showed a decline of eight I.Q. points from age 13 to 38.
We must deliver "to the public the message that cannabis use during adolescence can have harmful effects on mental abilities," said the study's lead author, Madeline Meier, a psychologist and post-doctoral researcher at Duke University in Durham, N.C.
Eight points lowers a person from an average I.Q. rate of 100 to 92, dropping him from the 50th percentile to the 29th percentile of intelligence, according to PNAS. This drop will affect the person's education, income, health and ability for a longer life. Users who quit smoking marijuana cannot fully reverse the neurological damage, according to the study.
Lower I.Q. ratings are not found in all marijuana users, just primarily those who use the drug during adolescence. Users who began marijuana use in adulthood showed no marked neurological change, according to the study. It concluded the brain is more vulnerable to drug abuse while it is still developing.
That is a sobering finding, since more than half of marijuana users are teenagers, according to the U.S. Substance Abuse and Mental Health Service Administration (SAMHSA).
Among studies showing rising teen use or acceptance of marijuana:
— A 2011 survey showed 2.6 million individuals age 12 and older use marijuana, with nearly 58 percent of those under 18, according to SAMHSA.
— Two of five teens have tried marijuana at least once in the last year, representing an increase from 31 percent in 2008, according to the Partnership Attitude Tracking Study (PATS) released in May and sponsored by the MetLife Foundation.
— Heavy, past-month use of marijuana by teens has grown to 27 percent from 19 percent in 2008, a 47 percent increase, according to the PATS study.
— Nearly three-fourths (71 percent) of teens say they have friends who smoke pot regularly, PATS reported. While 61 percent of teens say they disapprove of their friends' drug use, only 51 percent say they see "great risk" with marijuana use.
In 2011, teens smoked marijuana more than cigarettes for the first time, according to the National Institute on Drug Abuse.
"Adolescents are getting the message that cigarettes are dangerous but marijuana is not, which again highlights the importance of getting the message out to adolescents that cannabis is not harmless," Meier told BP.
"There should be public service announcements targeting adolescents that state clearly and simply that cannabis use in adolescence can lead to I.Q. decline."
Westley Clark, director of the Center for Substance Abuse Treatment, said children are not "emotionally and intellectually predisposed" to focus on marijuana's ill effects while their minds are constantly changing and developing."
"Throw in alcohol, throw in marijuana, throw in prescription drugs and then what do we get … a decline in mental functioning," Clark told BP.
Parents must be more involved in their children's lives to stop them from abusing drugs, Clark said. If they receive a "message of disapproval" from their parents, it will help show them this is not good behavior, he said.
Adolescents need to prepare for their future and be equipped to find jobs, Clark said. If marijuana interferes with their cognitive development, it should be discouraged, he said.
"This is a world where competition rules, and you don't want to give up that edge," Clark said.
Anne Reiner is an intern with the Washington bureau of Baptist Press. Get Baptist Press headlines and breaking news on Twitter (@BaptistPress), Facebook (Facebook.com/BaptistPress ) and in your email ( baptistpress.com/SubscribeBP.asp).