By Mark Ellis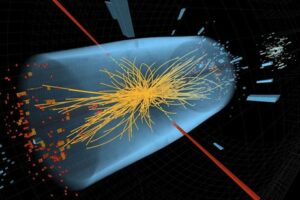 To listen to some of the news reports surrounding the probable discovery of the Higgs Boson — the so-called "God Particle" — one might believe science had disproven the Bible.
In an interview with acclaimed physicist Michio Kaku, a CNN anchor leaned forward and gushed excitedly, "Is this how science may disprove religion?"
"We're going into areas that take us before Genesis, chapter one, verse one," Kaku replied. "We're talking about going before the beginning itself. This is deep. It has philosophical and theological implications as we talk about other universes out there, parallel universes co-existing with ours."
Kaku said a particle like the Higgs Boson was "the fuse that set off the explosion that created the universe, so everything we see around us, including life itself, is the byproduct of an explosion that was set off by a Higgs-like particle."
Theoretical physicist Lawrence Krauss, author of "A Universe from Nothing," went a step further when he argued that the discovery of the elusive particle "demonstrates the plausibility that everything we see could arise naturally from an initial state of no particles and maybe no space and maybe no fixed laws, without supernatural shenanigans."
Krauss believes the discovery adds weight to the idea the universe is self-existent, even though it had a beginning. Christians believe the universe had a beginning as well, but hold that only God is self-existent or eternal.
"This discovery doesn't explain why the universe exists in the first place," says Jeff Zweerink, a research scholar in astronomy and physics at UCLA. "It doesn't prove the universe is self-existent," he maintains.
Most who believe the universe is self-existent presume the laws of physics were in place at the creation event. "If you try to explain the laws of physics apart from God, these laws of physics have to have causative powers," Zweerink notes. "Krauss and Stephen Hawkins both attribute causative powers to the laws of physics themselves."
"Their first cause is the impersonal laws of physics," he adds.
But could laws arise without a law giver? The laws of physics often involve elegant mathematical formulas – information transmitted by a superb intellect.
Zweerink believes further discoveries about the properties of the Higgs Boson will reveal its fine-tuned nature, confirming a magisterial design pervading the cosmos.
"From a scriptural perspective, God is actively, moment-by-moment, sustaining creation," he says. "His sustaining work is so reliable that we can characterize it by the laws of physics."
"The laws of physics are a measure of how reliably and faithfully God sustains creation."
Jeff Zweerink is author of Who's Afraid of the Multiverse? and coauthor of more than 30 journal articles, as well as numerous conference proceedings. He serves part-time on the physics and astronomy research faculty at UCLA. He directs Reason to Believe's online learning programs, Reasons Institute and Reasons Academy, and also contributes to the ministry's podcasts and daily blog, Today's New Reason to Believe.