By Erich Bridges —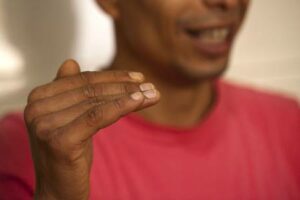 Once a hard drinker, soldier and martial artist, Abdel found trouble on a regular basis in Tunisia, birthplace of the "Arab Spring." He still does from time to time. The difference: When he gets in trouble nowadays, it's usually for telling people about Jesus, not for picking fights.
Abdel's personal revolution began nearly three years before the national revolution that launched the Arab Spring.
Born into a Muslim family, he often prayed at the mosque as a young person, but argued with his father about his future. He wanted to seek higher education; his father wanted him to make money. He joined the army, but got kicked out of military school and spent a month in jail for getting into trouble. After finishing his army service, "I felt like I lost everything — my school, my future job, my relationship with my family, everything."
Abdel found a survival job in Tunis, but drank every night. Like so many other frustrated, angry young men in the Arab world, he faced a bleak future. Then a young Muslim friend revealed to Abdel that he had decided to follow Christ. Abdel exploded at him: "What? No way! You cannot! It's wrong. We have Muhammad." His friend insisted he would not turn back, so Abdel demanded to meet with him and his other Christ-following companions to "change their minds."
Instead, Abdel found himself being challenged to change. He heard for the first time about God's passionate love for the world and plan of salvation through Jesus Christ. He talked for hours with the believers, peppered them with questions — and went away thoroughly confused.
"I didn't know how to figure out it," he remembers. "Who was the right one? Who was the wrong one? Muhammad? Moses? Jesus? What am I going to do? I asked God, 'Give me a sign, give me something, because I'm going crazy. I want to have a special relationship with You but I don't know how. Tell me.'
"Two nights later, somebody came to me as I was dreaming. He said, 'Son, come to Me. I am the way.' I woke up in the morning and said He must be Jesus, but there was something in my heart that said, 'No, don't believe it.' But when I opened my Bible, I found [Christ's words]: 'I am the way. I am the truth. I am the life.'"
He immediately called his friends and declared, in classic Abdel style, "I want to believe. That's it. End of story."
"That was four years ago. It was the best decision I ever made. I still have some problems but they are not like before because whatever I do, I know that I have Him. When I'm tired, He will hold me. He can help me. He's the real meaning of hope. He is always with me."
Today, Abdel has a new philosophy straight out of Matthew 28, his favorite Bible passage. "Go, baptize, and teach them how to live and obey Me," he says, summarizing the last two verses of that chapter. "That's it. We really need to follow those words."
He follows them, even though the decision has cost him. He was expelled from his family for a time when he revealed he was following Jesus as Lord. They have since allowed him back but still treat him warily. He prays for them daily. He's been threatened by Islamists, but that's common for any Muslim who declares faith in Christ. For Abdel, there is no turning back.
"I'm going to follow Jesus until the end of my life — that's it," he says. "God said they will persecute you. I'm happy with that. I figure if I don't have a hard time, something is wrong."
"Sometimes I even get calls from Salafists [militant Islamists]," Abdel reports. "They just want to know who is the right God. They want to figure out how to do this, but they don't know because they are afraid to read the Bible. So I think God is really working after the revolution."
That's why, on a clear spring day, Abdel and some of his young friends don't hesitate to sing praise songs to Jesus outside at a bustling street-corner coffee shop — something that would have been unthinkable a few years ago, even in secularized, European-influenced Tunisia.
"They are absolutely fearless," observes an admiring friend. "They are going to speak." — Erich Bridges, International Mission Board's global correspondent.
If you want to know God personally, go here