By Mark Ellis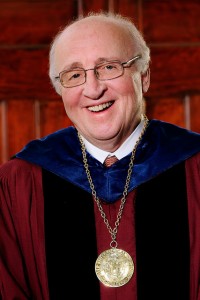 In several high-profile opinion pieces, the head of Fuller Theological Seminary has declared that Mormonism is not a cult, and therefore Christians should not withhold their support for presidential candidate Mitt Romney due to his religious beliefs.
"Most scholars who study religious movements have long abandoned the use of the "cult" label with reference to Mormonism. With about 14 million adherents around the world, the church has moved into the religious mainstream," he noted in a Los Angeles Times Op-ed piece that appeared November 20th.
For the past 12 years Mouw has co-chaired a "behind-closed-doors" dialogue between a dozen evangelical leaders and scholars and an equal number of Mormon leaders. These face-to-face meetings – and the relationships that have ensued – have altered Mouw's perspective on the LDS Church.
"Based on these conversations and my own careful study, I do not believe Mormonism is a cult. However, I am not convinced that Mormon theology deserves to be classified as Christian in the historic sense of that word," he noted.
Mouw maintains he still harbors serious disagreements with Mormons about basic issues of faith that have eternal consequences, including the nature of God, the Trinity, and the afterlife. "But I have also learned that in some matters we are not quite as far apart as I once thought," he wrote.
"I know cults," he insists. "I have studied them and taught about them for a long time," he noted on a CNN Belief blog in October.
In several categories, Mormons do not display the classic identifying marks of a cult, he believes. "Brigham Young University is a world-class educational institution, with professors who've earned doctorates from some of the best universities in the world. Several of the top leaders of the Church of Jesus Christ of Latter-day Saints have PhDs from Ivy League schools," he wrote on CNN's blog.
Mouw noted a congenial quality to his dialogue with Mormons, that they lack the "us-versus-them" mentality of most cults. He states that cults do not engage in self-examining conversations such as the ones he and his evangelical colleagues have conducted.
"These folks talk admiringly of the evangelical Billy Graham and the Catholic Mother Teresa and they enjoy reading the evangelical C.S. Lewis and Father Henri Nouwen, a Catholic. That is not the kind of thing you run into in anti-Christian cults."
The classification of Mormons as Christians is a "complicated question" for Mouw. "While I am not prepared to reclassify Mormonism as possessing undeniably Christian theology, I do accept many of my Mormon friends as genuine followers of the Jesus whom I worship as the divine Savior."
In his Los AngelesTimes piece, Mouw warned Christians against bearing false witness against their neighbors. "That truth-telling obligation applies to our Mormon neighbors as well," he wrote.
Mouw has apparently been stung by some angry responses engendered by his position. "I am getting two kinds of angry responses," he noted November 24th on his personal blog. "Some folks insist that I simply do not understand Mormonism," he  wrote. Some have urged him to read books or videos by Walter Martin, Ed Decker, and Dave Hunt.
"Actually, I am very familiar with all of that," he responded. "It was precisely my dissatisfaction with the basic approach in that kind of thing that motivated me actually to start talking to Mormons themselves."
Mouw stirred debate in November 2004, when he appeared at a historic gathering at the Mormon Tabernacle, and apologized to Mormons for the way they have been characterized by Evangelicals. At that appearance he said, "I am now convinced that we evangelicals have often seriously misrepresented the beliefs and practices of the Mormon community. Indeed, let me state it bluntly to the LDS folks here this evening: we have sinned against you. The God of the Scriptures makes it clear that it is a terrible thing to bear false witness against our neighbors, and we have been guilty of that sort of transgression in things we have said about you."
Earlier this year on his personal blog, Mouw also defended the theology of Rob Bell, as presented in his book "Love Wins."
"Why don't folks who criticize Rob Bell for wanting to let too many people in (heaven) also go after people like that who want to keep too many people out? Why are we rougher on salvific generosity than on salvific stinginess?" he wrote.
"In a book I wrote several years ago defending the basics of a Calvinist perspective, I told about an elderly rabbi friend who struck me as a very godly person. He would often write to tell me that he was praying for me and my family. When he died, I said, I held out the hope that when he saw Jesus he would acknowledge that it was Him all along, and that Jesus would welcome him into the heavenly realm."
"A straightforward question: Did Mother Teresa go to hell? My guess is that she was a little confused about justification by faith alone. If you think that means she went to hell, I have only one response: shame on you."