By Michael Ireland
Bethany Hamilton, a pro athlete known for her prowess in the world of surfing after surviving an Oct.31, 2003 shark attack in which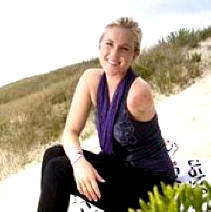 she lost her left arm and for overcoming the serious and debilitating injury to return to professional surfing, has sustained an injury while surfing during a boat trip in Indonesia.
According to an entry on her Facebook page, Bethany took a June 22 wipeout and her surfboard fin sliced her bicep, causing an injury requiring 10 stitches. She now has some numbness in her arm which is concerning to her family.
In the Facebook entry her family states: "She is on her way to Singapore to get checked out by a physician on her way home. We have appointments with physicians in Hawaii as well, whom she will see immediately when she gets home. We talked to Dr Rovinsky (Bethany's surgeon after she lost her arm) here on Kauai and he said it's likely that she cut a nerve during the incident, she may have to have surgery to repair it."
Bethany's family says they are thankful for Rip Curl, Bethany's main sponsor, which manufactures quality surf, snow, skate, wake, street & beach products, and to their travel insurance company which is helping take care of changes to the family's travel plans and finding her proper medical attention in Asia.
"She will be traveling home with our dear family friend Alana, and will also be accompanied to Singapore by one of her team managers from Rip Curl, Brooke Farris. We are grateful that she is with friends who care for her like a sister!" the family says on Facebook.
They add: "Most of all though, we are thankful for the love and care of our Father. We know He is watching over her, and we are relying on Him completely."
Bethany became a source of inspiration to millions through her story of faith, determination, and hope, following the loss of her left arm.
Born into a family of surfers on February 8, 1990, on the island of Kauai, Hawaii, Bethany began surfing at a young age. At the age of eight, Bethany entered her first surf competition, the Rell Sun Menehune event on Oahu, where she won both the short and long board divisions. This sparked a love for surf competition within her spirit.
In October 2004, Bethany shared her life story in her autobiography entitled Soul Surfer. The book was made into a major motion picture bearing the same title, which was released in April 2011. Further, Bethany was the inspiration behind Becky Baumgartner's 2007 documentary entitled Heart of a Soul Surfer.
According to her Facebook page, from a young age, Bethany's parents instilled in her their faith in Jesus Christ and, at age 5, she made the decision to have a personal relationship with Him. Bethany's foundation of faith has been her backbone; her source of truth, hope, and strength.
Bethany's Facebook page goes on to say: "Out of the water, Bethany has grown from a young teenage girl with aspirations of becoming a professional surfer into a twenty-year old professional surfer with aspirations of becoming a beacon of inspiration and hope.
"Through the platform of professional sport, Bethany has been able to touch a large number of people with her message, charitable efforts, and overall spirit."
Bethany just launched her own foundation, Friends of Bethany, which supports shark attack survivors, traumatic amputees, and also serves to inspire others through her life story, and is involved in numerous other charitable efforts.
Bethany's fan page says her story is continually growing as she strives to be the best at whatever God calls her to do.
Since the accident, Bethany's Facebook page has been peppered with goodwill messages from friends around the world.